Headlines
Back > Headlines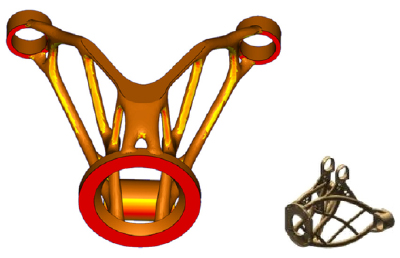 Additive manufacturing: global standardisation experts meet at Cetim
From September 16 thto 20 th, Cetim will host the annual plenary meeting of ISO's Additive manufacturing committee (TC 261) and ASTM International's Committee on Additive manufacturing (F42) for a week focussing on efforts to harmonise additive manufacturing standards!
The international community working on standardisation in additive manufacturing has found a new home base. Indeed, as of September 16 ththe two additive manufacturing committees, ASTM 42 and ISO / TC 261, will be meeting at the Cetim Senlis facility for their annual work meeting. The event is being organised by UNM (French standardisation office for mechanical engineering) with support from Cetim and will bring together a diverse group of some one hundred industry experts including manufacturers, technicians, users, academics, policymakers, competitive clusters and representatives from other standardisation committees concerned by additive manufacturing to jointly advance work on standardisation in this high-potential sector.
A history of harmonisation
In 2011, as part of a strategic alliance in the fast-growing field, the International Organisation for Standardisation (ISO) and ASTM International decided to establish a framework agreement enabling both parties to concertedly create international standards. The UNM 920 commission, France's representative on both the ISO/TC 261 and the European committee CEN/TC 438, enables French stakeholders to work with 22 other countries in this area. One notable example of this international cooperation led by France is the standard EN ISO/ASTM 52901, published in October 2018, which lays down guidelines for purchased parts made by additive manufacturing. Initially a French standard, it was extended to the international level and subsequently accepted by the American committee ASTM and the ISO international committee and later by the European Committee for Standardisation (CEN). Given that it is common to the three organisations it is one of the first globally applicable standards. Accordingly, compliance with this standard provides manufacturers with opportunities for market penetration that transcend all borders.
An in-depth look at additive manufacturing
To take things a step further, this successful cooperation will be strengthened this week via a rich and varied programme focused on issues such as standardised sample parts, non-destructive testing, consideration of the environment , safe and healthy use of metallic materials, specifications for the design of powder bed fusion, digitisation, post processes, among others. The topics covered apply to materials, processes, markets as well as the medical, aeronautics and space sectors in addition to workforce skills qualification.
Cetim will be heading up a joint session between the ISO and ASTM committees centred on testing methods. This is only one aspect of Cetim's involvement as it has also provided input in the development of standards ISO / ASTM 52911-1 and 2 "Additive manufacturing – Design – Laser-based powder bed fusion of metals" which are now available to manufacturers worldwide.
(09/16/2019)