Headlines
Back > Headlines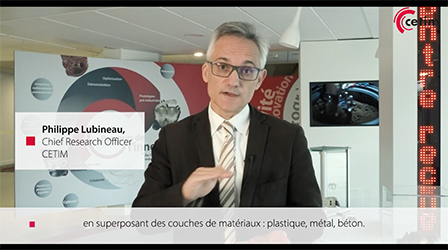 Video: Cetim takes up the challenge of metal additive manufacturing
In a new video, Philippe Lubineau, Chief Research Officer at Cetim, talks about this key technology for the future and the role of Cetim and other French players in this area.
Metal additive manufacturing is vital for the industry of the future and has fuelled the hopes of many manufacturers. This technology can produce parts outside the realm of other conventional metal removal processes and can meet both customisation and mass production requirements. In a new video on the Cetim France Youtube channel, Philippe Lubineau takes the time to answer a few questions, take stock of the situation and outline the role played by Cetim in the related developments and the position held by France internationally when it comes to metal additive manufacturing.
Through six questions, Cetim's Chief Research Officer explains in English, the basic principles and benefits of the technology, the progress made in addition to the much needed support provided by Cetim to manufacturers in this area over the past few years. He also highlights the regional and national R&D initiatives in France, particularly those led by the Carnot institutes as well as Cetim's contribution to the standardisation of a still burgeoning technology.
Watch the video "Metal additive manufacturing – a key mechanical opportunity for the industry of the future" on the Cetim France Youtube channel.
(12/10/2020)