Mechatronics – Control and Measurement
Headlines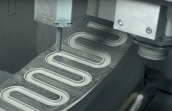 Additive manufacturing: two new steel tools for working at high temperatures
The materials used in additive manufacturing continue to evolve, opening up the opportunity for new applications, such as the production of tools for working at high temperatures. As part of its R&D work, Cetim tested two new steels for this application.
Making metal sheets at high temperatures and cooling them in a few seconds is now possible. How? Thanks to new steels used for the additive manufacturing of tools for working at high temperatures! As part of their R&D work on behalf of French manufacturers, Cetim has actually tested two steels (grades H11 and H13) which present a great surface strength after nitriding heat treatment and offer the possibility to generate cooling channels which are impossible to produce with machining methods.
A different additive manufacturing process for every grade
Grade H11 (X37CrMoV5-1) has already been used by forging specialists to machine dies and punches from solid blocks. The study of this steel was conducted on parts CNC Fertigungstechik Kriftel (C.F.K.), a German specialist in metal machining, using a powder bed laser fusion machine. This machine, equipped with a device to preheat the material to 250⁰C, "welds" this alloy susceptible to cracking during its implementation more easily. Specimens and a demonstrator have been produced and received two different heat treatments to obtain Rockwell hardness levels of 46 HRC and 50 HRC. Cetim carried out the work by studying the parts very carefully: chemical analysis of the material, porosity rate, influence of heat treatment on the mechanical strength (tensile strength, impact bending strength and hot tensile strength), nitriding ability, etc. The results of this work show the capability to implement this steel by laser fusion with interesting mechanical performance despite a brittleness that can limit certain applications. The nitriding ability of this grade extends its scope of application to tools highly stressed on the surface.
Thanks to its great wear resistance and its good thermal conductivity, grade H13 (X40CrMoV5-1) is used today for hot working tools machined from a solid. As part of its work carried out on this steel, Cetim tested the production of cooling channels placed close to the surface of the tool, which are impossible to produce by machining, to very quickly cool down the formed parts. To that end, the work was conducted with Hermle, a German machine manufacturer, by combining, in a single machine, a machining process and the Cold Spray technology, which is often used for surfacing or coating deposition. The material is added by embedding of material particles projected onto the substrate at speeds from 100 to 1000 metres per second. Cetim has thus characterized test specimens and a demonstrator comprising a channel in the form of a coil. Cetim then carried out a series of tests on these parts: metallurgical structure and chemical analysis of the material, mechanical performance (hardness, tensile strength…), nitriding ability, appearance of the internal channel, etc. The results demonstrate a mechanical performance compatible with the requirements of the hot working tools sector, but not with those of the cutting and stamping-tools sector.
References
( Tractebel Engineering)
( TACT Projet)
( Finest Composite)
( NTN Transmissions Europe)
( MIP Robotics)
Presentation
Mechatronics is for products and equipments as well. It deals with an integrated method to design, validate and manufacture functions which performances are guaranteed by an optimal assembly of various components (mechanical, electrical, electronical and data processing ones).
In the field of control and measurement, improvements are mainly found in the fields of production system management and real-time adjustment in order to guarantee product quality. There is also the development of via-Internet management of production machines, so that one machine can be shared by various industrials.
This technological focus includes projects relating to : mechatronical design, process and product automation and monitoring, measurement control, maintenance and monitoring of operating machines.
Hot topics
To help the mechanical engineering industry to anticipate and make the best strategic choices, Cetim, with support from its partners, has identified 53 technologies which are considered as priorities for the mechanical engineering sector for 2020.
Energy-autonomous communicating sensors
Adaptronics
Traceability