Design - Simulation - Tests
Headlines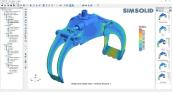 Simulation gets rid of meshes!
Altair Simsolid, a new-generation simulation software now distributed by Cetim, performs its calculations directly from the CAD models of parts and complete assemblies, without meshes.
The model preparation phase once required before launching simulations is now a thing of the past! With Altair Simsolid, designers of mechanical parts and assemblies can now perform calculations without going through this often long and tedious task. This solution, integrated to the SolidThinking suite provided by Altair, an American software publisher, and now distributed by Cetim, can perform structural analyses without the need to create the usual mesh for finite element calculation: it directly uses the CAD model of the part or assembly to be processed. Even better, thanks to the software's unique technology, complex geometries no longer need to be "cleaned" and simplified before analysing the designs, unlike with conventional simulation tools. Designers can therefore perform simulations right from the early stages of the design of assemblies, with minimal preparation (definition of the loads and boundary conditions), and this without being numerical simulation specialists. Moreover, the meshless technology of Simsolid gives reliable results in shorter times.
Web demos to discover the technology
Altair SimSolid can process all types of joints (bolt/nut, bonded, welded, riveted or sliding joints) and perform all kinds of analyses (linear static, modal and thermal analyses). It can also process more complex effects, such as nonlinear static analyses (material and geometry) or linear dynamic analyses (temporal, frequency and random response). The software is compatible with most CAD model formats available on the market and with standard formats.
In order to allow industrial companies to discover this technology and become familiar with it, Cetim offers skill improvement packages that include training courses focused on material strength as well as webinars to help users to become familiar with the software.
Presentation
With product modelling and simulation potential solutions can be virtually optimized before they are really implemented. We tend to set up a more efficient design by taking fatigue life into account and optimizing safety factors within a fiabilist approach. The main goal is to achieve much shorter development deadlines. Major improvements are experienced in the field of simulation dealing with more and more complex and multi-physical phenomena.
This technological focus includes projects relating to : fiabilist design of products, functional requirement and performance qualification checking, analysis methods based on customer needs, design of clean and silent products, simulation of product behavior and operation.
Hot topics
To help the mechanical engineering industry to anticipate and make the best strategic choices, Cetim, with support from its partners, has identified 53 technologies which are considered as priorities for the mechanical engineering sector for 2020.
Eco-design
Geometrical specification of products
Design of reliable and safe products
Integration of the human factor
Digital simulation and optimisation of product or process
Welding of high-performance materials
Innovative design methods