Materials - Processes
Headlines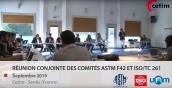 Video: ASTM and ISO working hand in hand for the standardisation of additive manufacturing
Why are the International Organisation for Standardisation (ISO) and ASTM International working together on the standardisation of additive manufacturing? What topics are they working on? What do they hope to achieve? All the answers to these questions can be found in a video made during the last annual one-week work meeting of the European and American committees held in Senlis, France.
In 2011, ISO's additive manufacturing committee (TC 261) and ASTM International's committee on additive manufacturing (ASTM 42) made a strategic alliance geared towards the application of the same rules worldwide in the field of additive manufacturing. This work is yielding results as demonstrated through the publication in November of standard ISO/ASTM 52907:2019 Additive manufacturing — Feedstock materials — Methods to characterise metal powders.
A new video posted online shows highlights of the last one-week meeting of the committees held at the Cetim Senlis facility. The meeting was organised by UNM (French standardisation office for mechanical engineering) with support from Cetim. Pat Picariello, Director, developmental operations for ASTM 42, Christian Sidel, Chairman of the ISO/TC261 committee on "additive manufacturing", and Éric Baustert, Chairman of the UNM 920 "Additive manufacturing" committee, among others, share how the processes of both organisations complement each other as well as the interest of this joint work and the role that France may play in this work.
The video "ASTM ISO additive manufacturing standardisation meeting - September 2019" is available online on the Cetim France YouTube channel.
Presentation
Mastering various types of materials (metallic, polymer, composite...) and their particular implementation through processing and assembly processes is the very base of mechanical engineering industry. The technologies used in this sector gradually evolve but remain critical for everybody.
This technological focus includes projects relating to : virtual simulation of manufacturing processes, implementation of innovative manufacturing processes or improvement of existing ones, innovative assembly processes (mechanical ones, but also processes using adhesive bonding or welding), characterization and definition of using conditions for new materials (metallic or non-metallic ones) and nanostructured materials or surfaces.
Hot topics
To help the mechanical engineering industry to anticipate and make the best strategic choices, Cetim, with support from its partners, has identified 53 technologies which are considered as priorities for the mechanical engineering sector for 2020.
Micro-fabrication
Agile and adaptive manufacturing systems
Nanofilled elastomers
Integration of robots during production
Near Net Shape forming methods
Light and titanium alloys
Superalloys and ultrahigh performance steels
Thermoplastic composites
Welding of high-performance materials
Multi-material joining