Materials - Processes
Headlines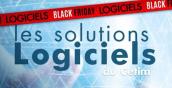 Take full advantage of our "Black Friday Software" operation in December!
Cetim's pro software will benefit from a 25% discount in December! The software solutions developed by the Centre (excluding Cetim QSD) for industry, whether dedicated to mechanical design (composite parts, screw-on assemblies), sheet metal equipment design, costing parts and mechanical sub-assemblies (time and cost), metrology, mechanical simulation (finite element calculations) or process simulation (electrolytic deposition assemblies, cutting conditions, cathodic protection), are available at reduced rates for all until the end of 2020.
These discounts are only valid for orders submitted between 1 and 31 December 2020 for Cetim CAP 1591, Cetim Castor (Concept, Elec 3D, ESP), Cetim Cobra, Cetim Cut Optimizer, Cetim Gessica, Cetim Procor and Cetim TechniQuote software.
To take advantage of these discounts, fill out our special Black Friday contact form
Presentation
Mastering various types of materials (metallic, polymer, composite...) and their particular implementation through processing and assembly processes is the very base of mechanical engineering industry. The technologies used in this sector gradually evolve but remain critical for everybody.
This technological focus includes projects relating to : virtual simulation of manufacturing processes, implementation of innovative manufacturing processes or improvement of existing ones, innovative assembly processes (mechanical ones, but also processes using adhesive bonding or welding), characterization and definition of using conditions for new materials (metallic or non-metallic ones) and nanostructured materials or surfaces.