All our services
Back > Advice and support
Asset Integrity Management (AIM)
Area of expertise
Quality - safety - environment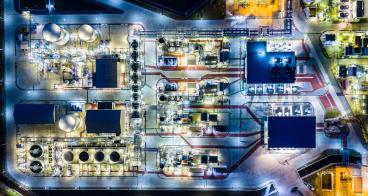 To master risks!
YOUR EXPECTATIONS
As an owner or operator of infrastructure, facilities or equipment, you operate in especially volatile markets, shaped by new regulatory, environmental, societal, technological and digital challenges.
You need to implement an organisation and the tools to:
Reduce your OPEX, CAPEX by extending the life of your equipment: control investments and optimise maintenance
Control your risks
Uphold a high level of equipment performance: reliability, availability, maintenance, safety
Guarantee customer satisfaction (quality /cost /time)
OUR SOLUTIONS
A 3-level approach :
A technical and technological approach
- Third-party expert appraisal regarding the state of health and conformity of your equipment: corrosion, materials, assemblies
- Validation of performance by numerical simulation: mechanical sizing, thermal resistance, fluid flow, etc..
- Estimation of the residual life of your facilities
- Inspection of your equipment: NDT, automated/robotised inspection, leak detection and leak testing
- Proposal of IIoT solutions for supervision and monitoring
- Energy and environmental optimisation of in-service equipment and end-of-life management
- Damage analysis, development of repair plans and support for the implementation of corrective actions
An organisational approach
- Introduction of your AIM system in your company
- Implementation of an RBI approach and related tools in partnership with your operational teams
- Performance of various types of analyses (risk analysis, FMECA, life cycle analysis, etc.)
- Establishment of Lean Management, flow reorganisation, workstation management
An approach aimed at safeguarding and developing your human capital
- Cetim's training centre offers more than 400 Cetim Academy® training courses in France and abroad, which are delivered face-to-face or in a virtual classroom, on an inter- or intra-company basis
- Skills and knowledge engineering and talent identification
- Safety / Health of your employees during operation: Management of harmful emissions (air, water, soil) and waste, workstation ergonomics and collaborative robotics for assistance with physical movements, virtual and augmented reality
YOUR BENEFITS
- A business approach based on over 50 years of multidisciplinary expertise
- Structured support / approach based on proven methodologies
- Ensuring compliance with regulatory requirements through our active participation in the various standards bodies
- 25 years of R&D in the field of monitoring
- Innovative resources dedicated to expert investigations (drones and robots, 3D digitisation and simulation, advanced NDT, tomography, etc.)
- A head start in the Industry of the Future through access to the latest simulation methods and technologies

Expertise in non-destructive testing
NDT, as a preventive measure, according to regulations or subsequent to a failure
digital engineering: calculation and simulation
Calculation and simulation to improve the performance and robustness of your products, reduce the time-to-market and maximize equipment availability. ...
Scanning / Reconstructing your products in 3D
3D scanning, inspection and reverse engineering of products (all materials).
For a tailored approach to IIoT
You are looking to act and quickly create added value through the use of your data, take advantage of the product/process business expertise ... You a...
Reduce the environmental impact of your industrial activities
Circular economy, clean technologies and products, production waste, effluents, soil pollution, air pollution… Cetim provides you with independent an...
Failure analysis and expertise
More than just a simple diagnosis, a true driver of competitiveness!
Forensic and insurance expertise
Are you a court-appointed and/or insurance expert? Call on an independent partner to assist you in your investigations!
Fracture mechanics
Analyse, understand and anticipate the failure of a component or piece of mechanical equipment to be able to judge its integrity.
Failure or damage of mechanical components
Analyse and understand the failure of a component, transmission or a mechanical equipment
Failure or damage to mechanical systems
Analyse and understand the failure of the kinematic chain of a mechanical system
Wear & failure of polymer and composite parts
Understand and anticipate plastic, composite and elastomer material breaks
Profile and surface anaylsis following a failure
A metrology laboratory to control your faulty mechanical parts or devices
Failure of bolted, welded, riveted or adhesive bonded assemblies
Understand the origin of failure for robust assemblies
Faulty parts on production line
Defective parts on the production line
Vibratory failure analysis
Expert know-how in noise and vibrations
Expertise in tightness failures analysis
Our full range of expertise to help you quickly and accurately identify the causes of leaks
Failure of thermofluidic installations and equipment
All our expertise for reliable thermofluidic systems
Pressure equipment failure
Secure your pressure equipment
Failure, damage of metallic parts
Analyse and understand the failure of a part, product or metallic equipment
Expertise in corrosion and corrosion protection
Analyse and understand the corrosion of a part, product or metallic equipment
Wear, abrasion, friction of metallic parts
Understand and characterise wear and friction phenomena
Fault analyses completed in double quick time
( Locapal)
Risk management and regulatory conformity
Master and foresee risks means avoiding accidents, production stops and losses, which could put your company's existence in danger.
Cetim has developed a long experience and comprehensive knowledge in risk prevention and statutory compliance, and will efficiently contribute to help you control most industrial hazards, for the sake of your staff and organization.