Design - Simulation - Tests
Headlines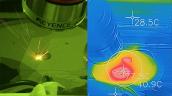 Video: "I am Sure" project monitors metal additive manufacturing
detection of incipient defects reveals its results in a new video.
The "I am Sure" project has proven that it is possible to perform real-time in-process monitoring of metal additive manufactured parts. The project partners developed a system that can be used to detect the formation of defects on parts produced with the Selective Laser Melting (SLM) and Directed Energy Deposition (DED) processes. Learn all about the project in the video "Additive Manufacturing - innovative solutions for real time defects detection" on Youtube.
From preparation through to characterisation
Sponsored by the machine manufacturer BeAM (acquired by Addup), the project brought together players from all sectors, namely Airbus, Naval Group, Thales, CEA List, Cetim LNE, VLM, Polyshape and the French rapid prototyping association. As part of the project, Cetim was tasked with developing a detection system, which it implemented on "model" parts and subsequently used X-ray tomography after manufacturing to qualify the results.
This video takes a look at the key steps in this experiment - preparation, manufacturing, in situ control using acoustic emission technology and fatigue characterisation work to qualify the harmfulness of the detected defects - for each of the studied processes (DED and SLM).
Watch the video "Additive Manufacturing, - innovative solutions for real time defects detection" on the Cetim France Youtube channel.
Presentation
With product modelling and simulation potential solutions can be virtually optimized before they are really implemented. We tend to set up a more efficient design by taking fatigue life into account and optimizing safety factors within a fiabilist approach. The main goal is to achieve much shorter development deadlines. Major improvements are experienced in the field of simulation dealing with more and more complex and multi-physical phenomena.
This technological focus includes projects relating to : fiabilist design of products, functional requirement and performance qualification checking, analysis methods based on customer needs, design of clean and silent products, simulation of product behavior and operation.