Headlines
Back > Headlines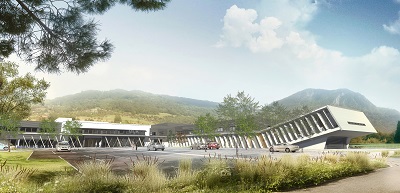 ID Center, enhancing the Industry of the Future
The partners involved in the venture have voted to name the future center of industrial resources and expertise located in Cluses, Haute-Savoie, France, the ID Center. This name reflects the center's goals of industrial excellence.
A new phase has been initiated in the construction of the future center of industrial resources and expertise in Cluses (Haute-Savoie, France). Following the launch of the project in November 2017 and the laying of the foundation stone in February 2018, three names and logos were proposed to the industrial manufacturers and other partners to the project during the machine-tool and bar-turning fair (Simodec), held in March 2018. Based on the outcome of the voting, the flagship location of industrial excellence in Haute-Savoie, which was formerly known as the "Technocentre project" will now be called the "ID Center". In less than two years, it will open its doors with the aim of enhancing the local "Innovation and Development" resources, while charting a decisive course towards the "Industry of the Future".
Towards industrial excellence
The project leaders – Cetim-Ctdec and the French bar-turning union (Sndec) – and their technical and financial partners share and strive towards the powerful ambition of developing a hub for industrial expertise and intend to become an internationally-recognised benchmark in the bar-turning, machining and mechatronics fields. The issue of visibility is central to this project intended to improve the industrial attractiveness of the sector and the territory for major contractors and talents of the future.
This unprecedented site dedicated to competitiveness and development of the industry is being built with financial support from Europe, the French Government, the Auvergne Rhône-Alpes Region, the County Council of Haute-Savoie, the Arve et Montagne Federation of Municipalities, Cetim-Ctdec and SNDEC. Together, they have funded 11.3 million Euros in buildings and technical equipment.
All information regarding the centre and the project leaders is available at www.idcenter-industrie.com. This website also provides the opportunity to watch videos showing the real-time progress of the construction, and to keep up-to-date with the latest developments regarding the ID Center, as well as job offers posted by the partners.
You can also find information in the video "Technocentre Project – Learn about your future center of industrial resources and expertise" amongst the "J'aime" (I like) videos on the Cetim France YouTube channel.
(07/06/2018)