All our services
Back > Advice and support
Pressure equipment failure
Area of expertise
Failure analysis and expert evaluation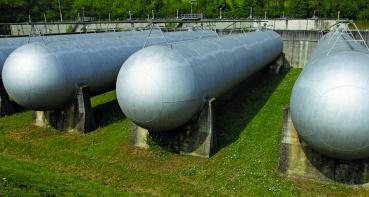 Secure your pressure equipment
YOUR EXPECTATIONS
As a pressure equipment operator or user, you want to:
Have a full or punctual expertise for your equipment following a failure
improve safety, ensure maintenance or maintain its operational conditions
Evaluate its remaining life or extend its service life
Bring it back into technical or regulatory compliance
OUR SOLUTIONS
Diagnosis and recommendations of control means to implement on every type of equipment or materials (metal, polymers and composites, etc.)
On-site relevant non-destructive tests
Analysis and measurement of critical failures towards brittle fracture
Assessment of the measured defects' nocivity
Assessment of remaining life and recommendations
YOUR BENEFITS
Cetim offers you:
A multidisciplinary approach: non-destructive testing (NDT), regulations, computation, metallurgy, assembly, welding, corrosion and anti-corrosion protection, tightness...
An official report from a neutral and recognized organization
Reactivity and mobility of our teams in France or abroad for your emergencies
A support via Cetim Academy® training courses which can be customised, and which benefit from Qualiopi® certification.

Support to pressure equipment design
Benefit from expert advice!
Leak-tight design
Complete your design work with our sealing expertise
Support for selecting materials for pressure equipment
Use Cetim skills to take immediately the right decision
Failure analysis and expertise
More than just a simple diagnosis, a true driver of competitiveness!
Forensic and insurance expertise
Are you a court-appointed and/or insurance expert? Call on an independent partner to assist you in your investigations!
Fracture mechanics
Analyse, understand and anticipate the failure of a component or piece of mechanical equipment to be able to judge its integrity.
Failure or damage of mechanical components
Analyse and understand the failure of a component, transmission or a mechanical equipment
Wear & failure of polymer and composite parts
Understand and anticipate plastic, composite and elastomer material breaks
Profile and surface anaylsis following a failure
A metrology laboratory to control your faulty mechanical parts or devices
Failure of bolted, welded, riveted or adhesive bonded assemblies
Understand the origin of failure for robust assemblies
Faulty parts on production line
Defective parts on the production line
Vibratory failure analysis
Expert know-how in noise and vibrations
Expertise in tightness failures analysis
Our full range of expertise to help you quickly and accurately identify the causes of leaks
Failure of thermofluidic installations and equipment
All our expertise for reliable thermofluidic systems
Pressure equipment failure
Secure your pressure equipment
Failure, damage of metallic parts
Analyse and understand the failure of a part, product or metallic equipment
Expertise in corrosion and corrosion protection
Analyse and understand the corrosion of a part, product or metallic equipment
Wear, abrasion, friction of metallic parts
Understand and characterise wear and friction phenomena
Failure analysis
Mechanical breakdown, non-compliant product ? Our dedicated teams do failure analyses on a daily basis and give you assents and recommendations to help you understand the causes and origins of the problem.