All our services
Back > Product and process engineering
Support to pressure equipment design
Area of expertise
Design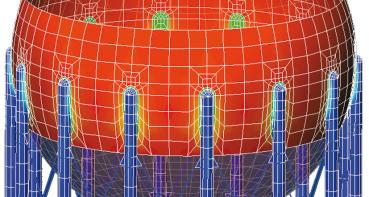 Benefit from expert advice!
YOUR EXPECTATIONS
As a designer of pressure equipment, you want to:
• validate your computations and studies, check their compliance with pressure equipment construction codes
• optimize your design with the help of expert advice : guarantee a longer lifecycle to your equipments, benefit from an easier maintenance and anticipate failures
• support for dimensioning and choosing materials
OUR SOLUTIONS
Our pressure equipment specialists bring you:
• a deep critical analysis of your specifications and computations reports
• expertise in the interpretation and application of codes and regulations (EN13445, CODAP, CODETI, CODRES, ASME, B31-3 and earthquake...)
• advice to improve your equipment performance and maintenance plans
• definition of storage containers frangibility
YOUR BENEFITS
• Cetim is an independent technical center with an international reputation. It contributes to many standardization organizations and positions itself as one of the best expertise centers in pressure equipment
• Cetim brings you neutral advice and objectively helps you choose your materials and suppliers as well as improve your designs and specifications
• you benefit from multidisciplinary skills in materials, computations, processes (boilermaking, welding, piping, assembly). Your unique contact can manage your project as a whole and call on a technical trade specialist if necessary

Design and simulation
The design of products and their manufacturing processes includes many different parameters ranging from human to technological ones, not to mention environmental issues and questions dealing with operators' well-being.
So many reasons to call for Cetim's experience!