All our services
Back > Product and process engineering
Development and integration of robotic solutions
Area of expertise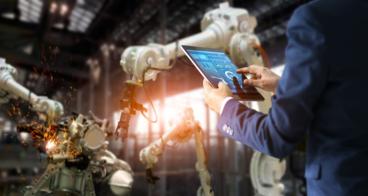 Process robotization, collaborative robots, moveable robot cells… Cetim provides you with independent and tailor-made support. Your expec...
YOUR EXPECTATIONS
increase the efficiency of your industrial organisation (productivity, etc.)
Improve your employees' working conditions and make certain "tricky" production or maintenance operations easier
Develop an innovative and specific robotic solution
You are wondering whether these technologies are appropriate for your context
You are looking for a neutral partner, recognised for the implementation of these solutions and the management of the associated changes.
OUR SOLUTIONS
Cetim assists you with:
The evaluation of the interest of integrating a robot into your company (ARTHUR method developed by Cetim)
The definition of your needs (specifications)
The technical and economic feasibility study prior to the purchase (return on investment, assessment of the environmental, economic and social impacts, etc.)
The risk analysis
The search for partners (integrator, etc.)
The technical feasibility tests and the manufacturing of demonstrators
The acceptance inspection and the evaluation of the compliance with your specifications and with requirements of applicable regulations and standards
The training of your employees
YOUR BENEFITS
A pragmatic and impartial position focused on your objectives and based on our teams' experience
Perfect control of the mechanical engineering processes
Integration of your industrial organisation
Economic benefit (time, money) for the integration or dissemination of new robotic solutions (reduction of the time to market)
Access to our platforms (ROBOTIC PARK) to prepare your proofs of concept

Industrial control, efficiency in production
Your industrial management depends on many parameters : from your global company strategy to your local team management .
Cetim can accompany your organization at a global level with the general management, or help the operational managers solve identified problematics.
We give you access to specialised trade experts, or propose our unique ability to combine our expertises to manage global projects.