All our services
Back > Control and Measurement
Self-service metrology laboratory
Area of expertise
Metrology - calibration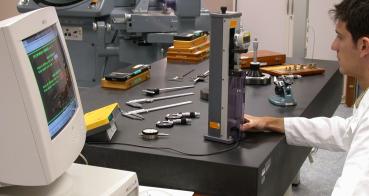 A local self-service offer in our metrology laboratories
YOUR EXPECTATIONS
• You are looking for calibration devices,
• You do not want to stop your control device for more than one day,
• You want to keep your calibration knowledge,
• You need advice from skilled experts
OUR SOLUTIONS
• A self-service calibration laboratory is available on each of our Cetim sites (Nantes, Saint-Etienne, Senlis)
• Our team is entirely dedicated to your projects
YOUR BENEFITS
• A high quality calibration on high-precision devices,
• A flexible and quick solution with no need of investment,
• You keep your own skills and your technicians have access to Cetim experts network.

Measurement tools
Do you need to have your instrument calibrated or do you want to have your equipment pool managed? Cetim offers you solutions customised to your needs: from self-service laboratory to the overall management of the function.
Thanks to its wide-ranging machine pool, Cetim can offer a comprehensive service, thereby releasing its customers from the constraints related to managing their measuring equipment.