All our services
Back > Product and process engineering
Innovative and differentiative production technologies
Area of expertise
Mechanical products and processes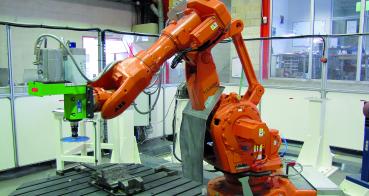 Your processes become a real competitive asset
YOUR EXPECTATIONS
• increase the value of the products and services you offer to your customers and your company's profitability
• become the premium choice for your customers
• validate your choices with contained-cost preseries
• make good and objective investment choices for your mechanical equipment according to your strategy
• make right technological choices.
OUR SOLUTIONS
After a full analysis of your current situation, Cetim recommends the best technological solutions for you and helps you enforce them.
• products audit
• suggestions of innovative technological solutions according to your environment
• technical and economical feasibility studies on our testing and validation platforms
• pricing, time and cost capitalization
• changing and staff support, trainings

Machining (5 axes, robot, vibratory drilling...), assembly (bonding, mecano welding, riveting, bolting, clinching...), stamping, adiabatic blanking, digital process simulation, forging, large deformation processes, powder metallurgy (compression, laser sintering, laser fusion, CGV, MIM, direct manufacturing, SPS...)
YOUR BENEFITS
• our shared technical platforms reduce risks and ease skill acquisition
• you have access to our network of scientific and industrial partners
• you save time, which allows you to improve your skills in new technologies for the benefit of your company
• investment simplicity and relevance
• objective investment choices (apart from bidders' offers).

Process-product optimization
Our technical expertise fully dedicated to find the best process for your company
Design of industrial manufacturing ranges
Take a new look on your habits to prepare a new development!
Control risks to protect your employees and customers
Regulatory compliance, workstation safety and ergonomics, marketing and CE marking of products and processes… Cetim provides you with independent and...
Innovative substitutions of substances-processes-materials
Substitution, a driver of innovation
Management of soil contamination and decontamination
Promote your real estate and respect your duties!
Develop innovative and environmentally-responsible products
Innovation, eco-design, design to cost, management of failures and customer claims… Cetim provides you with independent tailor-made and comprehensive assis...
Reduce the environmental impact of your industrial activities
Circular economy, clean technologies and products, production waste, effluents, soil pollution, air pollution… Cetim provides you with independent an...
Industrial control, efficiency in production
Your industrial management depends on many parameters : from your global company strategy to your local team management .
Cetim can accompany your organization at a global level with the general management, or help the operational managers solve identified problematics.
We give you access to specialised trade experts, or propose our unique ability to combine our expertises to manage global projects.