All our services
Back > Product and process engineering
Retained austenite quantification by energy dispersive X-ray diffraction (EDXRD)
Area of expertise
Fatigue of components and structures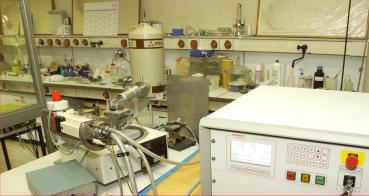 Energy dispersive phase analysis
YOUR EXPECTATIONS
You would like to quantify the amount of retained austenite in order to:
Develop or test a manufacturing process
Compare several manufacturing processes
Develop new products
Develop new heat and thermo-chemical treatments
Analyse parts after failure
OUR SOLUTIONS
Techniques:
Energy dispersive X-ray diffraction (EDXRD)
Quantification carried out from the measurements of the intensities of the constituent phases of the materials. For example – thermo-chemical treatment of a steel: 16 α phase (ferrite, bainite and martensite) and γ phase (austenite) reflections
Totally automatic quantification and analysis
Length of time for acquiring then processing results ranges from 10 min to 30 min maximum according to the samples (24 hr as required in standard method)
Characteristics:
Analyses of all types of steel and iron (even textured and containing carbides)
Contents between 0% and 100%
Analysis repeatability currently less than 0.5%
Determination of strain-induced martensite in austenitic steels
Additional information on the structure (strain-hardening, lattice parameter)
Characterisation of layer thicknesses
YOUR BENEFITS
Comprehensive management of your experiment requirements
Meeting deadlines with results in less than 48 hours
Response adapted to the requirements of your customers
Assurance that analyses can be repeated
Availability of accredited expert laboratories (accreditation Cofrac - No. 1-1014 - Scope available on www.cofrac.fr)

Choix et caractérisation des matériaux
Les matériaux sont un enjeu primordial dans la conception de vos produits:
Lesquels choisir, selon quels critères, métalliques, composites, élastomères?
Comment les assembler ? Quels procédés de fabrication? Quels traitements leur appliquer ?
Autant de questions auxquelles les experts du Cetim vous apportent des réponses pratiques et argumentées, en les complétant si vous le souhaitez de prestations d'aide à la conception pouvant vous faire gagner un temps précieux dans la mise sur le marché de vos produits.