Mechatronics – Control and Measurement
Headlines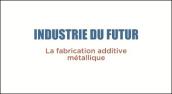 Video: Industry of the Future Techno Zoom: Metallic additive manufacturing
The new instructional video produced by Cetim in connection with the Industry of the Future Alliance sheds light on a number of technologies that enable a direct transition from design to production, without the use of tools.
The world is changing and so is industry. To meet consumer demands, it is seeking new alternatives, such as metallic additive manufacturing, which is covered in a new Industry of the Future Techno Zoom. This new instructional video is available on the Cetim France YouTube channel and provides detailed explanations about this new technology that is replacing machining and gives insight into the key benefits derived therefrom, such as the possibility to manufacture unit parts within close proximity to customers, to customise parts, and achieve lighter-weight products by adopting unprecedented designs. Metallic additive manufacturing provides SMEs with an opportunity to stand out, by working faster and adopting new ways of producing, using a range of technologies which allow them to transition directly from design to production without the use of tools.
As part of its mission to roll out the government plan to SMEs within the Industry of the Future Alliance, Cetim invites you to watch its "Techno Zooms" and "testimonials" videos, and learn more about key technologies of the Industry of the Future and their practical application in companies.
The set of videos, including the "Industry of the Future Techno Zoom – Metallic additive manufacturing" , can be found on the Cetim France YouTube channel.
Presentation
Mechatronics is for products and equipments as well. It deals with an integrated method to design, validate and manufacture functions which performances are guaranteed by an optimal assembly of various components (mechanical, electrical, electronical and data processing ones).
In the field of control and measurement, improvements are mainly found in the fields of production system management and real-time adjustment in order to guarantee product quality. There is also the development of via-Internet management of production machines, so that one machine can be shared by various industrials.
This technological focus includes projects relating to : mechatronical design, process and product automation and monitoring, measurement control, maintenance and monitoring of operating machines.
Hot topics
To help the mechanical engineering industry to anticipate and make the best strategic choices, Cetim, with support from its partners, has identified 53 technologies which are considered as priorities for the mechanical engineering sector for 2020.
Traceability
Adaptronics
Energy-autonomous communicating sensors