Mechatronics – Control and Measurement
Headlines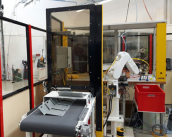 At Micronora, Cetim takes action for the competitiveness of SMEs
Micronora, the leading international micro technology and nanotechnology fair will open its doors from September 25 to 28 2018 at Besançon, France. This is the ideal opportunity for Cetim and its partners to exhibit their solutions for enhancing the competitiveness of SMEs in this sector. This year's edition will cover additive manufacturing, precision electrochemical machining, robotisation and other topical issues.
For its 25th edition, the biannual Micronora fair that caters to high-tech sectors forever striving for smaller, more accurate and more intelligent products will be held from 25 to 28 September 2018 in Besançon (Doubs, France). Cetim will be in attendance to offer companies in these sectors its solutions for enhancing their competitiveness. Special focus is placed on metal additive manufacturing and how to successfully integrate this process into their companies.
Additive manufacturing, a key theme
With an exhibition surface area of 25,000 m², 850 exhibitors and 15,000 professional attendees, this year's edition of Micronora is once again expected to draw in a large number of visitors! Cetim will be present at Hall 6 – Stand 613 to demonstrate its solutions for successfully integrating metal additive manufacturing into companies. An individualised tailored solution based on the company's level of maturity that ranges from the technical-economical feasibility study to the integration strategy in addition to the proof of concept. Particular emphasis is being given to Metal Binder Jetting which serves to produce small series of small, complex and high precision parts. This technology has been validated for stainless steels and titanium and developments are underway for Inconel, copper, carbon steel and carbide. The two new UPDPs (shared device pilot units) for additive manufacturing, Supchad 2 located in Bourges (Cher, France) and another in the project phase located in Cluses (Haute-Savoie, France), will also be placed under the spotlight.
Precision electrochemical machining, yet another innovative technology, will be also be on display at this common space. This technology is able to work almost all metals with no limits as to their level of hardness. Moreover, the high quality surface condition often obviates the need for a polishing operation.
The centre will also showcase regional actions such as the "Industry of the Future Diagnosis" initiative launched as part of the roll-out of the Industry of the Future approach to companies as well as skill training courses provided at Cluses in machining, metrology, machine tool setter, etc.
A presence at Zoom Industry 4.0
This year, the Zoom space of the fair will be dedicated to Industry 4.0 primarily, digital technology in microtechnology. The goal is to demonstrate that the digital technology revolution does not only affect major corporations but that it also impacts SMEs and even very small enterprises. Cetim will be unveiling "Robdec", a robotised cell for the loading-unloading of presses. This concept which stems from a joint action in Bourgogne-Franche-Comté, is a modular base equipped with one or two robots depending on the requirements. The mobile, easily programmable and flexible robot can freely move around a workshop, adapts to series changes and guarantees the safety of operators, all at an affordable cost. This robotised cell will be offered to industrial manufacturers so that they can be trained in its use and perform feasibility tests.
For more information about Cetim's presence at Micronora, visit our website in the "Agenda" section.
References
( NTN Transmissions Europe)
( MIP Robotics)
( Euromag)
( Gauthier Connectique)
( Desoutter Industrial Tools)
Presentation
Mechatronics is for products and equipments as well. It deals with an integrated method to design, validate and manufacture functions which performances are guaranteed by an optimal assembly of various components (mechanical, electrical, electronical and data processing ones).
In the field of control and measurement, improvements are mainly found in the fields of production system management and real-time adjustment in order to guarantee product quality. There is also the development of via-Internet management of production machines, so that one machine can be shared by various industrials.
This technological focus includes projects relating to : mechatronical design, process and product automation and monitoring, measurement control, maintenance and monitoring of operating machines.
Hot topics
To help the mechanical engineering industry to anticipate and make the best strategic choices, Cetim, with support from its partners, has identified 53 technologies which are considered as priorities for the mechanical engineering sector for 2020.
Traceability
Adaptronics
Energy-autonomous communicating sensors