Design - Simulation - Tests
Headlines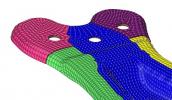 QSD: "Design-to-Cost" applied to composites
Cetim's Quilted Stratum Design (QSD) software solution to optimise composite parts from the design stage will be previewed at JEC World 2018.
A world first! At JEC World 2018, to be held in Paris (France) from 6 to 8 Mars 2018, Cetim will be showcasing the Quilted Stratum Design" (QSD) first "Design to Cost" software solution at the show. This solution is an easy and efficient way of optimising composite parts.
Optimising cost effectiveness
QSD, developed as a result of several years of research conducted in cooperation with Onera and Altair, is based on a unique method serving to quickly and easily identify the optimum performance level of a part, for a given selection of materials and manufacturing process. Using computer simulation of forming processes which takes into account these various parameters, the designer builds his or her fibre stack while optimising cost, inter alia by minimising the number of scraps.
The application, which has been incorporated into Altair's HyperWorks environment, relies on "Stiffness Matching", a two-step optimisation method developed by Onera. The first step, carried out during the preliminary design phase, makes it possible to view the performance of the structure based on the materials used and their use zone. The second step takes into account the manufacturing process to determine the composite stack that enables optimised performance and compliance with cost targets.
Many application sectors
This solution, which allows for better use of the most recent composite part manufacturing processes and their customised preforming capacity (fibre placement, automated lay-up, etc.) meets the major challenges faced by the aerospace, automotive, sports and leisure and special machinery industries, by making it possible to quickly develop lightweight parts and at the same time comply with dictated structural requirements. When they are combined with the Quilted Stratum Process (QSP), the high speed manufacturing line developed by Cetim, the preforms designed with the QSD can furthermore be manufactured at low cost.
Demonstrations and conferences will be devoted to QSD at the "Composites in Action" area, Hall 6 – G89 of JEC World 2018. The full programme can be consulted on our website in the "Agenda" section.
Presentation
With product modelling and simulation potential solutions can be virtually optimized before they are really implemented. We tend to set up a more efficient design by taking fatigue life into account and optimizing safety factors within a fiabilist approach. The main goal is to achieve much shorter development deadlines. Major improvements are experienced in the field of simulation dealing with more and more complex and multi-physical phenomena.
This technological focus includes projects relating to : fiabilist design of products, functional requirement and performance qualification checking, analysis methods based on customer needs, design of clean and silent products, simulation of product behavior and operation.
Hot topics
To help the mechanical engineering industry to anticipate and make the best strategic choices, Cetim, with support from its partners, has identified 53 technologies which are considered as priorities for the mechanical engineering sector for 2020.
Digital simulation and optimisation of product or process
Eco-design
Geometrical specification of products
Design of reliable and safe products
Integration of the human factor
Light and titanium alloys
Innovative design methods
Welding of high-performance materials