Design - Simulation - Tests
Headlines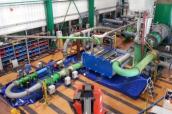 Cetim becomes a key partner in the Oil and Gas sector
With the help of Cetim, Eureka Pumps, a Norwegian manufacturer, performed unprecedented tests on a large‑size oil extraction pump. A "Success Story" worth reading and watching which demonstrates Cetim's abilities to support companies of the Oil & Gas sector throughout the world with their large-scale projects.
The challenge met by Eureka Pumps, a Norwegian pump manufacturer, and Cetim involved reproducing the cold start of the large-size oil drilling pump in extreme temperature conditions. For that purpose a two-ton pump was installed in Cetim's facilities in order to run unprecedented tests with a liquid with a viscosity 1,000 times that of water. The objective was to validate the sizing of a future drilling facility to be located off the Canadian coasts and, more importantly, to ensure the pump's ability to start with very high viscosity levels in polar temperatures.
To find more on this application case which is representative of Cetim's ability to support industrial companies of the Oil & Gas sector, read our reference sheet "Eureka pumps - Tests of giant pumps in real conditions"in the "References" section of our website, or watch the video "Eureka Pumps: validate the start of a pump in severe weather conditions"on the Cetim France YouTube channel.
Cetim's offer for the Oil & Gas sector ranges from exploration and production to refining and includes crude oil transport. It is also presented in its entirety on a page dedicated specifically to this sector in our website.
Presentation
With product modelling and simulation potential solutions can be virtually optimized before they are really implemented. We tend to set up a more efficient design by taking fatigue life into account and optimizing safety factors within a fiabilist approach. The main goal is to achieve much shorter development deadlines. Major improvements are experienced in the field of simulation dealing with more and more complex and multi-physical phenomena.
This technological focus includes projects relating to : fiabilist design of products, functional requirement and performance qualification checking, analysis methods based on customer needs, design of clean and silent products, simulation of product behavior and operation.
Hot topics
To help the mechanical engineering industry to anticipate and make the best strategic choices, Cetim, with support from its partners, has identified 53 technologies which are considered as priorities for the mechanical engineering sector for 2020.
Geometrical specification of products
Design of reliable and safe products
Integration of the human factor
Digital simulation and optimisation of product or process
Welding of high-performance materials
Innovative design methods
Eco-design