Information Systems and Management
Headlines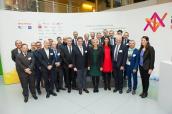 Additive Manufacturing prepares the industry of the future with the Additive Factory Hub
The initiative Additive Factory Hub (AFH), inaugurated on Tuesday December 5th by Valérie Pecresse, President of the Paris Region, aims to innovate, develop and integrate additive manufacturing in a single location. The AFH platform is located at the Paris-Saclay CEA centre and will structure the industrial additive manufacturing ecosystem around research players of the Paris-Saclay campus and the Paris Region in order to address the key industrial and economic challenges represented by additive manufacturing.
As a central driver of the changes to production and working methods of the industry of the future, additive manufacturing has taken on a strategic dimension, disrupting industrial manufacturing and forming stakes via new geometries, lighter-weight materials and structures, increased functionalisation, part customization, improved performance and logistics. The structuring of the additive manufacturing sector undertaken by the Industry of the Future Alliance (AIF) since 2016 has made it possible to collectively establish a roadmap, which has served as a guide for this initiative.
Interdisciplinary expertise over the entire value chain
With a view to greater efficiency, Additive Factory Hub brings together academic research, technology and industry players, SMEs, suppliers of technology and end-users, under one roof. From upstream research to industrial applications, as an open and shared platform, AFH provides its members and partners with a forum to unite their expertise and best forming equipment in a wide range of projects, continuing on the course set by the Industry of the Future Alliance.
Pooled R&D, a strategic vision
The members of AFH jointly set up shared R&D programs focused on achieving scientific and technological milestones. These programs range from design and digital simulation to the development of manufacturing processes (instrumentation and optimization of equipment) in addition to the qualification of produced parts. The synergy amongst leading digital technology players paves the way for a comprehensive numerical chain encompassing design, multiscale and multi-physical simulations and management of control simulation equipment. The involvement of part and equipment manufacturers as well as the academic and metrology expertise available could help enhance the optimisation of the manufacturing techniques. These joint developments will make it possible to improve both current processes and produce breakthrough innovations (multi-material applications, establishment of the internet of things).
Additive Factory Hub is spearheaded by Cetim and jointly operated with CEA List, both founding members of the Industry of the Future Alliance. AFH is also intended to be a forum for dissemination, training and support for industrial manufacturers, via technological transfers to SMEs. The platform is therefore fully in line with the Paris Region's Smart Industry Strategy. Finally, based on the Industry of the Future Alliance's roadmap, Additive Factory Hub provides structure to the additive manufacturing ecosystem and shows off French know-how on the international stage.
Members and partners of Additive Factory Hub:
Addup, Air Liquide, Areva NP, Arts et Métiers Paristech, CEA, Cetim, Dassault Systèmes, ENS Paris-Saclay, EDF, LNE, Mines Paristech, Onera, Poly-Shape, Safran, SystemX, University of Paris-Saclay, University of Paris-Sud, Vallourec.
During the first phase (mid 2017-2018), the Paris Region contributed EUR 2.5 million to finance the investments of the platform.
References
( Liebherr Machines Bulle SA)
( Comap)
( Serta France)
( Haulotte Group)
( Myral)
Presentation
With the Information System, every actor of a project can be internally interconnected. This system supports the firm's activity and set up skills and knowledge, which thus can be easily accessed and used. On a technological level, a codesign of objects compels all suppliers to be implied in the creation of a usually virtual prototype before it is actually manufactured. Concerning management, it deals with defining or redefining firm strategy and improving its performances.
This technological orientation includes projects relating to knowledge and skill management, industrial performance and extended enterprise management.