Equipment
Headlines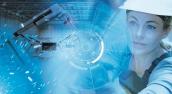 Assisting companies with all their digital transformation projects
During the Global Industrieevent, Cetim and its partners will use concrete examples to present their offers intended to help companies to achieve their digital transformation.
No matter their projects or their level of maturity regarding digital transformation, companies will have the opportunity to discover the tailor-made solutions offered by Cetim and its partners during Global Industrie2019.
At stand No. 4N125, Cetim's experts will present our support services provided to companies in conjunction with our partners, among which Siemens, a world leader in production digitalisation technologies. A comprehensive package, from the implementation of a project to modernise their production tool to a general reflection on their future and market positioning, including the integration of the technological bricks of the industry of the future
Advanced NDT at Midest
These technological bricks will be showcased on many occasions during the whole trade fair. At Midest2019, Cetim Grand Est (on the CCI Grand Est space, stand No. 5B114) will give a demonstration of non-destructive testing based on the phased array ultrasonic testing technology. Such an imaging technology can be used either on metals or on composite materials and features many advantages, among which: time saving and improved accuracy when compared to conventional ultrasonic testing, better detection of flaws in the parts and possibility to test parts with complex shapes, etc.
Carnot Institutes: focus on additive manufacturing
In the "Village 3D" at Industrie Lyon, stand No. 4E80, run by the Carnot Institute, will be dedicated to another technological brick of the future: additive manufacturing. The agenda will include pragmatic solutions focused around the needs and objectives of industrial manufacturers, such as diagnosis, design and redesign of parts to make the most of the available technology, evaluation of solutions, testing and validation, characterisation of materials and parts, assistance to project owners, integration of new resources, management for change and transfer of skills. Last but not least, many demonstrators of technical solutions implemented by the Carnot Institutes will also be presented.
Find out more about the presence of Cetim at Global Industrie2019 on our website, in the "Agenda" section.
Presentation
Within a very competitive international context and in a restructuring period, Cetim has developped for this sector special solutions for research, innovation and support. Mechatronics, new materials, innovative manufacturing processes... all of them are assets to develop the high-value products required by the market.