Headlines
Back > Headlines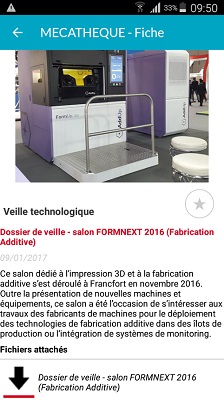 The entire Mécathèque document repository on your mobile!
The technical library for mechanical engineers is now directly available via a mobile application. 3,500 technical documents can be instantly accessed on Smartphones and tablets and new features have been added for users.
Good news for mechanical engineers who like working while travelling! They are now able to consult and download the 3,500 documents (results of collective actions, including watch notes, priority technologies, work related to standardisation and regulations, etc.) from Cetim's Mécathèque document repository anywhere and at any time. As a matter of fact, the technical library for mechanical engineers which has recorded over 40,000 downloads per year (via the cetim.fr website) is now accessible on tablets and Smartphones using applications that can be downloaded on the Appstore (for iPhones and iPads) or Google Play (for Android devices).
New features
In the same way as for the Cetim website, members of the Cetim community or contributors have access to the Mécathèque via their mobile, by using the identifiers of their account on the site. Contributors automatically have access to all documents in their entirety.
An integrated keyword search engine allows users to find the document that they are seeking and to download it. The mobile application also offers specific features. Therefore, documents can be "tagged" to automatically appear in the user's bookmarks list. As soon as a new document is created or modified on the Mécathèque, a notification automatically appears on the icon of the Smartphone application and documents can be shared via the mobile tools (Email, Facebook, Twitter, etc.). Finally, a direct link under each search result makes it possible to contact Cetim's Question and Answer service (SQR) to ask a question or to request additional information.
Find the "Mécathèque mobile" Apps on Google Play and the Appstore.
(05/04/2017)