Design - Simulation - Tests
Headlines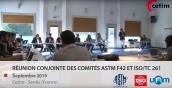 Video: ASTM and ISO working hand in hand for the standardisation of additive manufacturing
Why are the International Organisation for Standardisation (ISO) and ASTM International working together on the standardisation of additive manufacturing? What topics are they working on? What do they hope to achieve? All the answers to these questions can be found in a video made during the last annual one-week work meeting of the European and American committees held in Senlis, France.
In 2011, ISO's additive manufacturing committee (TC 261) and ASTM International's committee on additive manufacturing (ASTM 42) made a strategic alliance geared towards the application of the same rules worldwide in the field of additive manufacturing. This work is yielding results as demonstrated through the publication in November of standard ISO/ASTM 52907:2019 Additive manufacturing — Feedstock materials — Methods to characterise metal powders.
A new video posted online shows highlights of the last one-week meeting of the committees held at the Cetim Senlis facility. The meeting was organised by UNM (French standardisation office for mechanical engineering) with support from Cetim. Pat Picariello, Director, developmental operations for ASTM 42, Christian Sidel, Chairman of the ISO/TC261 committee on "additive manufacturing", and Éric Baustert, Chairman of the UNM 920 "Additive manufacturing" committee, among others, share how the processes of both organisations complement each other as well as the interest of this joint work and the role that France may play in this work.
The video "ASTM ISO additive manufacturing standardisation meeting - September 2019" is available online on the Cetim France YouTube channel.
Presentation
With product modelling and simulation potential solutions can be virtually optimized before they are really implemented. We tend to set up a more efficient design by taking fatigue life into account and optimizing safety factors within a fiabilist approach. The main goal is to achieve much shorter development deadlines. Major improvements are experienced in the field of simulation dealing with more and more complex and multi-physical phenomena.
This technological focus includes projects relating to : fiabilist design of products, functional requirement and performance qualification checking, analysis methods based on customer needs, design of clean and silent products, simulation of product behavior and operation.