Design - Simulation - Tests
Headlines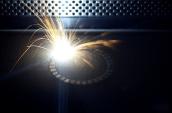 Additive manufacturing: a laser metal fusion standard
A new international standard has been released which provides design guidelines for the laser-based powder bed fusion of metals. It represents a further step towards the mainstream use of additive manufacturing.
The international standard ISO/ASTM 52911-1 "Additive manufacturing – Design – Part 1: Laser-based powder bed fusion of metals" is now available to manufacturers. The document, which was released in July 2019, specifies the features of the process and offers detailed design recommendations.
Cetim provided extensive input during the preparation process alongside the UNM (French standardisation office for mechanical engineering) and was also asked to carry out a case study which was used as reference. The document should be transposed into a French standard by the end of the year.
The fundamental principles of this new standard also apply to other additive manufacturing processes provided that due consideration is given to process-specific features. ISO/ASTM 52911-1 also provides a state of the art review of design guidelines associated with the use of powder bed fusion.
In addition, it brings together relevant knowledge about this process and extends the scope of ISO/ASTM 52910, published as a French standard in December 2018.
Dissemination of additive manufacturing
This publication is a truly strategic milestone as standardisation guarantees the industrial dissemination of the technology. Indeed, this standard serves to set the quality requirements, introduce a shared vocabulary between industry players and ensure easier interaction between customers and suppliers.
Remarkably, in 2011, the International Organisation for Standardisation (ISO) and ASTM International established a framework agreement which enables both parties to jointly create global additive manufacturing standards thereby representing significant benefits for market penetration.
At French level, UNM 920 – created under the auspices of Afnor and with support from the Viameca and EMC2 clusters as well as Cetim – currently monitors this framework on the international committees.
From September 16 thto 20 th, the entire international additive manufacturing standardisation community will meet at Cetim's Senlis facility for a week of discussions and joint projects. This event organised by UNM, with support from Cetim, demonstrates France's substantial involvement in the standardisation process.
Presentation
With product modelling and simulation potential solutions can be virtually optimized before they are really implemented. We tend to set up a more efficient design by taking fatigue life into account and optimizing safety factors within a fiabilist approach. The main goal is to achieve much shorter development deadlines. Major improvements are experienced in the field of simulation dealing with more and more complex and multi-physical phenomena.
This technological focus includes projects relating to : fiabilist design of products, functional requirement and performance qualification checking, analysis methods based on customer needs, design of clean and silent products, simulation of product behavior and operation.