Services
Back > Success stories
The Eiffel tower modelled
Sete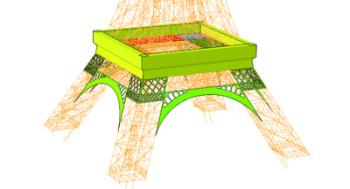 In order to ensure the safety and durability of the building, the Société d'exploitation de la tour Eiffel (Sete) had a dynamic model of our iron lady performed. By simulating the internal and external stresses, the tool contributes to creating the master plan for maintenance.

The Eiffel tower modelled (117 Ko)
---

Our success stories
Our competences materialise through our capability to control all the mechanical technologies.
The sheets which are presented here expose examples of achievements carried out for our customers either collectively or individually. They demonstrate Cetim's capability to propose a comprehensive and customised service offer to major main contractors as well as small companies.