Services
Back > Success stories
The importance of a correct soil diagnosis
EDF Gaz de France Distribution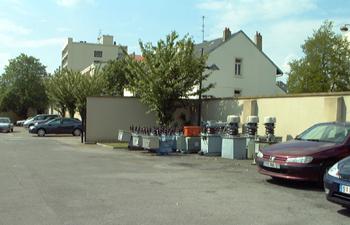 Implied in a process of ISO 14001 certification, the managers of EDF Gaz de France Distribution Metz Lorraine decided to carry out a thinking on environmental problems. They particularly wanted to more precisely evaluate the possible risks related to their former activities of storage of electric transformers on a site in Moselle.
"At the beginning, within a strict safety approach, we simply planned to withdraw the soil from old transformers storage areas on one meter depth and to eliminate suspect earth by incineration", explains Pascal Cauchin-Simon, in charge of estate issues at EDF Gaz de France Distribution Metz Lorraine. This solution would have cost several million euros!
Investing in diagnosis… for cost-effective curative solutions
To ensure the relevance of this approach, the company decided to ask Cetim for a soil diagnosis which would include a historical study of suspect grounds and a study of the surroundings to evaluate their vulnerability. And the results were unexpected!
The study showed that none of the eight investigated sites had any notable contamination according to the current regulation and practises adopted by EDF Gaz de France Distribution Metz Lorraine. Thus, no particular action of rehabilitation was necessary!
A good surprise which also permitted to limit the number of analyses to the first meters in depth when those appeared to be in conformity. A commitment which does not seem so frequent on the profitable market of diagnosis. In this field, "I particularly appreciated Cetim's transparency and independence", continues Pascal Cauchin-Simon. A satisfaction which immediately brought results : the company entrusted Cetim with the diagnosis of two other places in 2007.
Cetim's asset
Cetim has strong skills in all fields regarding soil protection and environment. With no involvment in depollution, its impartiality is a guarantee of reliability and a source of savings for companies.
Our customer:
Company name: EDF Gaz de France Distribution
Activity: EDF Gaz de France Distribution operates both for EDF and Gaz de France. It exploits and ensures the network's maintenance, build and maintain the installation for electricity supply, and manages the metering actions.

The importance of a correct soil diagnosis (99 Ko)
---

Our success stories
Our competences materialise through our capability to control all the mechanical technologies.
The sheets which are presented here expose examples of achievements carried out for our customers either collectively or individually. They demonstrate Cetim's capability to propose a comprehensive and customised service offer to major main contractors as well as small companies.