All our services
Back > Product and process engineering
Test Engineering
Area of expertise
Fatigue of components and structures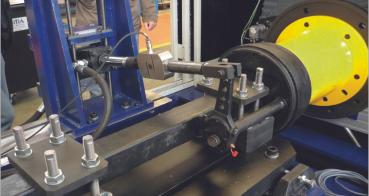 products validation and optimisation from engineering to tests facilities
YOUR EXPECTATIONS
You would like to:
Establish the correlation between calculation and experiment.
Characterise or validate your sub-systems, elements, components or parts under near-real conditions.
Optimise an existing product.
OUR SOLUTIONS
An approach dedicated to engineering methodologies and test facilities:
Support from formalising your requirements to analyse the tests.
Skilled in the mechanical design of test benches.
Skilled in fatigue post-treatment.
Design of special benches:
Design, manufacture, acceptance and assembly of multi-axial static or dynamic test benches.
Synthetic signals or simulation tests that can incorporate:
- Load or distortion control
- Temperature control
- Instrumentation (load, stress, temperature, pressure)
Using the results: analysis of sensor or gauge recordings, fatigue post treatment, fatigue reliability analysis.
Complex tests carried out on facilities ranging from 0.5 kN to 5,000 kN.
Non-destructive testing
YOUR BENEFITS
A multi-disciplined team
More than 40 years' experience in mechanical endurance testing.
Comprehensive management of your requirements
Project monitoring adapted to your demands

Tests – Products reliability
Qualifying, characterising in order to make sure that the product will fulfil the expected function, but also in order to optimise its performance or to implement quality control: the tests carried out by Cetim apply to all mechanical fields, from the most general to the most specialised one.
Cetim's experts perform a customised service, from simple standard tests to the design of specific test benches.