All our services
Back > Product and process engineering
Expertise of lubricants used in your industrial process
Area of expertise
Quality - safety - environment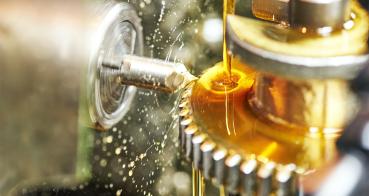 A parameter which deserves your whole attention!
YOUR EXPECTATIONS
Are you using lubricants in your manufacturing processes?
Most of mechanical breakdowns are due to a lack of lubricant or a defective lubrication.
You can drastically reduce this waste and loss of added value.
When designing or optimizing your product or process, an analysis is necessary!
OUR SOLUTIONS
• lubricant's state measurement and analysis (degradation and contamination)
• support for choosing products and processes
• facilities expertise and optimization
• recommendations to improve your lubricant life expectancy
• support for your engineering department when selecting current and future solutions
YOUR BENEFITS
Cetim's advanced technological knowledge enables you to:
• improve knowledge on your equipment's wear mechanism and increase your productivity and profitability
• increase your lubricants' life expectancy and optimize your maintenance activities
• reduce your process' energy consumption and the waste costs
• reduce occupational hazards for your operators and contribute to environmental protection

Tests – Products reliability
Qualifying, characterising in order to make sure that the product will fulfil the expected function, but also in order to optimise its performance or to implement quality control: the tests carried out by Cetim apply to all mechanical fields, from the most general to the most specialised one.
Cetim's experts perform a customised service, from simple standard tests to the design of specific test benches.