All our services
Back > Product and process engineering
Cetim: serving the biomedical industry
Area of expertise
Fatigue of components and structures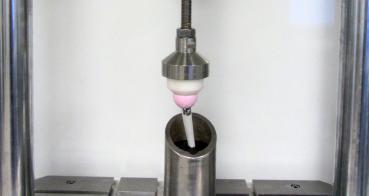 Complete service for the biomedical industry - From design to validation
YOUR EXPECTATIONS
You would like to:
Develop your innovative products to meet the needs of the market
Characterise your parts or process with a view to optimising them
Validate the performance of your implants as part of particular experimental references or standards.
OUR SOLUTIONS
High-performing environment for following the development of your medical devices, with skills in the following areas:
Standard processes: forge, machining, shaping by distortion, etc.
Innovative processes: high speed powder compacting, additive processes, etc.
Materials: help in the choice of metals, plastics, composites, etc.
Simulation (use of the leading major market codes).
Mechatronics (development of a special sensor, functionalisation of your product).
Customised expertise for medical devices:
Metallurgical and / or tribological analyses, characterisation of surfaces and coatings.
Failure analysis (corrosion, wear, fatigue, etc.).
Consulting services on cleaning technology, cleanliness check.
Metrological testing, topographic analysis.

An entire team dedicated to implementing your tests:
Design office integrated into the laboratory.
Development of single or multi-axial fatigue, wear or static benches.
Assistance in choosing an experiment protocol for implementing in accordance with the purpose of the test, in using and capitalising on the results.
Static or fatigue tests on all types of implant: Hip, wear, knee, shoulder, spine, dental, etc.
YOUR BENEFITS
Broad spectrum of skills adapted to solve your problems.
Comprehensive management and project monitoring adapted to your requirements.
Cofrac environment for tests on hip protheses and dental implant (accreditation COFRAC - No. 1-1006 - Scope available on www.cofrac.fr).

Tests – Products reliability
Qualifying, characterising in order to make sure that the product will fulfil the expected function, but also in order to optimise its performance or to implement quality control: the tests carried out by Cetim apply to all mechanical fields, from the most general to the most specialised one.
Cetim's experts perform a customised service, from simple standard tests to the design of specific test benches.