All our services
Back > Product and process engineering
Choosing adhesives for multi-material assemblies
Area of expertise
Mechanical products and processes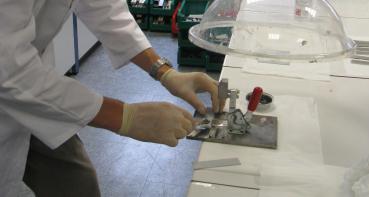 Choose the adhesive most fitted to your product
YOUR EXPECTATIONS
You want to:
• perform multi-material assemblies: integrate thermoplastic or thermosetting composites, glass, ceramic material, etc
• make productivity gains: reduction of assembling costs, simplification of machining tolerances, material reduction, etc
• provide your assemblies with additional functions: improve the integrity of your structures (no drilling or thermal damage), leak tightness, shock absorption, elimination of galvanic corrosion, etc
• impove the aesthetic of your parts
But you have to choose the product with the best cost-performance ratio within the framework of your application.
OUR SOLUTIONS
Cetim works along with you in all or part of the stages of your project:
Design
• assistance in specification drafting, supplier consulting, choice of products
• dimensioning/optimising the geometry of bonded joints: design, material and weight reduction with digital simulation tools
Implementation
• preparation of surfaces, application, determination of hardening time/temperature parameters and identification of other sensitive factors for your manufacturing process
• choice, dimensioning and installation of the equipment used
• technical-economical profitability sudy
YOUR BENEFITS
• professional teams who master all best engineering practices from design to manufacturing process
• an independant specialist to help you evaluate your suppliers'performance
• testing means for implementation of adhesives and surfaces preparation (plasma torch, corona treatment, UV Lamp, sand spreader, etc.) to carry out quickly your feasability studies


A new certified bonding process
( SMTC )
Bonding processes for cockpit-integrated displays
( Faurecia)
Choix et caractérisation des matériaux
Les matériaux sont un enjeu primordial dans la conception de vos produits:
Lesquels choisir, selon quels critères, métalliques, composites, élastomères?
Comment les assembler ? Quels procédés de fabrication? Quels traitements leur appliquer ?
Autant de questions auxquelles les experts du Cetim vous apportent des réponses pratiques et argumentées, en les complétant si vous le souhaitez de prestations d'aide à la conception pouvant vous faire gagner un temps précieux dans la mise sur le marché de vos produits.