All our services
Back > Product and process engineering
Chemical analysis and composition of metallic materials
Area of expertise
Metallic materials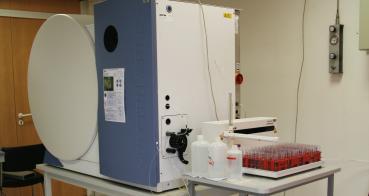 Characterise the physical-chemical properties of a metallic material
YOUR EXPECTATIONS
You would like to know the chemical composition of your metallic material
You would like to determine the chemical grade corresponding to your material
You are seeking reliable analysis and characterisation methods
You would like to ensure the traceability of analyses
OUR SOLUTIONS
A specialised team and resources in the area of the chemical composition of metallic materials
Identification and check of the content of composing elements via:

Direct analyses of solid materials by Optical Emission Spectrometry (OES)
Analyses after solution heat treatment by Plasma Emission Spectrometry (PES)

Determination of the gas content with an elemental analyser:

Hydrogen
Carbon / Sulphur
Oxygen / Nitrogen

Analyses and characterisations of many metals and alloys (highly alloyed steels, cobalt alloys, nickel alloys, titanium alloys, aluminium alloys)
Analyses and characterisations on site with a portable X-ray fluorescence device
YOUR BENEFITS
Standardised analyses or analyses customised specifically to meet your requirements
Development of specific test protocols
COFRAC accredited tests (accreditations COFRAC No. 1-0037 & No. 1-6755 - Scope available on www.cofrac.fr)
Tailored and responsive service
Access to the multidisciplinary skills of the metallurgical teams to optimise your products
An independent laboratory and major player in the aerospace, energy, rail, automobile, medical and naval sectors).

Choix et caractérisation des matériaux
Les matériaux sont un enjeu primordial dans la conception de vos produits:
Lesquels choisir, selon quels critères, métalliques, composites, élastomères?
Comment les assembler ? Quels procédés de fabrication? Quels traitements leur appliquer ?
Autant de questions auxquelles les experts du Cetim vous apportent des réponses pratiques et argumentées, en les complétant si vous le souhaitez de prestations d'aide à la conception pouvant vous faire gagner un temps précieux dans la mise sur le marché de vos produits.