All our services
Back > Product and process engineering
Characterization of materials in fatigue
Area of expertise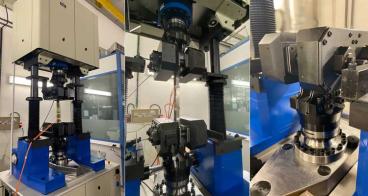 550 kN-capacity resonance testing machine subjects your test specimens (maximum: 850mm) to loads at frequency of up to 150 Hz thereby serving to reduce the...
YOUR EXPECTATIONS
"To validate a part's fatigue strength, the material must firstly be characterised on test specimens. The objective is to:
Identify the behaviour laws of the material,
Assess the endurance limit and plot the S/N curve,
Compare the fatigue response of the various manufacturing processes,
Assess the potential drifts of your processes during the "series life",
Carry out fracture mechanics testing (K1C, da/dN, J1C, etc.)"
OUR SOLUTIONS
Comprehensive support services from the determination of the tests through to the interpretation of the results (behaviour laws for materials & test/calculation correlations)
Cetim has developed a distinctive approach tailored to the needs of manufacturers allowing you to:
Optimise the service time through a specific experimental design and a test matrix that includes just the required tests offered by our experts,
Characterise your materials at elevated temperatures (high-temperature cryogenics) and in harsh environments.
Correlate the test data to the calculation data using contactless methods (e.g.: correlation of digital images) and/or instrumentation.
Develop specific test methodologies, such as composite materials,
To train you on material fatigue phenomena with a complete training offer on Cetim Academy ®.
YOUR BENEFITS
A tried and tested, personalised methodology that applies to a broad range of materials (metallic and non-metallic) and processes (forming & joining, etc.),
A unique fleet of machines allowing providing assistance for sizeable projects (significant volume of tests),Cetim has recently invested in a high capacity 550 kN vibrophore which can stress your specimens (maximum: 850mm) at frequencies up to 150 Hz, thus reducing the overall duration of tests
Sector-based expertise and cutting-edge equipment for multi-physical tests under high loads.
Tests covered by Cofrac accreditation (accreditation COFRAC No. 1-1014 - Scope available on www.cofrac.fr),
Advice from an independent specialist to help you determine the best possible testing campaign to enhance the reliability of your products.

Choix et caractérisation des matériaux
Les matériaux sont un enjeu primordial dans la conception de vos produits:
Lesquels choisir, selon quels critères, métalliques, composites, élastomères?
Comment les assembler ? Quels procédés de fabrication? Quels traitements leur appliquer ?
Autant de questions auxquelles les experts du Cetim vous apportent des réponses pratiques et argumentées, en les complétant si vous le souhaitez de prestations d'aide à la conception pouvant vous faire gagner un temps précieux dans la mise sur le marché de vos produits.