All our services
Back > Control and Measurement
Machine tool and 3-dimensional measuring machine control
Area of expertise
Metrology - calibration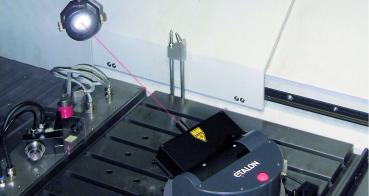 The Laser-Tracer : a technology intended to improve machine tool and 3-dimensional measuring machine control
YOUR EXPECTATIONS
With respect to your machine tools or 3D machines, you want:
To monitor deviations by periodic checks
To characterise errors as per standards ISO 230 or ISO 10360
To compensate for machine defects
To minimise machine downtime due to inspections
OUR SOLUTIONS
The patented Laser-Tracer technology has been developed in order to better control machine tools and 3-dimensional measuring machines. This technology provides:
A cartography of your machine, from the simplest (biased axes) to the most complex machines (21 errors + rotary axes).
An uncertainty of measurement at micrometric scale.
The issuance of a compensation matrix structured in accordance with the brand of the digital control.
A measurement time significantly shorter than that of conventional measuring instruments.
Operational flexibility, irrespective of the machine size (0.5 to 15 metres).
YOUR BENEFITS
The measuring strategy allows a comprehensive survey of your machine's working volume.
Errors on linear and rotary axes are detected with a single instrument.
Reduced machine downtime compared to conventional measuring instruments.
Possibility to correct the errors detected through the automatic issuance of a compensation matrix.

Control of materials, products and equipments
Cetim offers you its expertise in non-destructive testing and measurements, from simple part inspection to process instrumentation including the management of measuring instrument tools, in order to meet each requirement, whether related to products or processes.
Your NDT (Non-Destructive Testing) operators can also obtain COFREND certification in one of the 2 Cetim examination centres (Senlis and Nantes, France).