All our services
Back > Advice and support
Noise and vibration compliance in industrial environment
Area of expertise
Noise and vibration engineering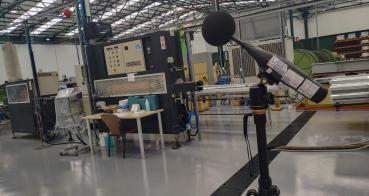 Respect noise constraints!
YOUR EXPECTATIONS
• comply with regulations related to industrial field (local or 2002/49 regulatory framework)
• comply with ISO 14001

OUR SOLUTIONS
• noise and vibration risk management
• documentary study and audit
• periodic property line noise controls
• inquiry of noise and vibration complaints
• diagnosis and advice for compliance with industrial hazards
• noise impact and forecasting studies with complete site modelling
• specifications establishment, follow-up and acceptance of improvement works
YOUR BENEFITS
• As an independent technical center, Cetim is recognized for its skills in regulatory intelligence and application of directives and regulations
• you benefit from a contact specialized in regulatory aspects as well as in acoustic and vibration solutions

Risk management and regulatory conformity
Master and foresee risks means avoiding accidents, production stops and losses, which could put your company's existence in danger.
Cetim has developed a long experience and comprehensive knowledge in risk prevention and statutory compliance, and will efficiently contribute to help you control most industrial hazards, for the sake of your staff and organization.