All our services
Back > Advice and support
Containment of refrigerants
Area of expertise
Sealing technologies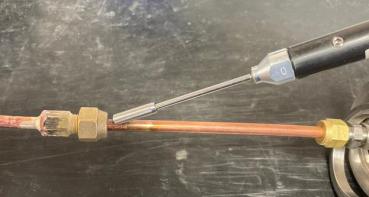 Improve the containment of refrigerants (HCFC, HFC, CO2) for your refrigeration equipment and facilities.
YOUR EXPECTATIONS
As an installer, user or operator of refrigeration equipment, you are affected by refrigerant emissions and want to:
Comply with applicable standards and regulations,
Improve the containment of your systems to make them cleaner, less costly and more efficient,
Show that your company is committed to the ecological and energy transition
OUR SOLUTIONS
We can assist you with:
Detecting and measuring the leakage of your refrigerant equipment on site
Diagnosing the tightness of new systems (helium or hydrogen testing, before charging)
Diagnosing the tightness of systems during operation
Carrying out operator audits for leak detection
Testing the sealing performance of components and connections in accordance with ISO 14903.
Training (regulations including as regards tightness inspections, leak concepts, influential causes and parameters, measuring techniques, ISO 14903 standard, good detection practices)
Advice and support
YOUR BENEFITS
Better knowledge of your systems in relation to leaks
Upgrading of tightness processes for installation and maintenance
We are active in all relevant sectors: agri-food, refrigerated transport, industrial refrigeration, air conditioners and commercial refrigeration.
A team of internationally-recognised experts with on-site leak detection and measurement equipment (helium, hydrogen, CO2, HCFC, HFC, etc.)
Over thirty years' experience in leak measurement
Cofrend-certified operators (levels 2 and 3)

Risk management and regulatory conformity
Master and foresee risks means avoiding accidents, production stops and losses, which could put your company's existence in danger.
Cetim has developed a long experience and comprehensive knowledge in risk prevention and statutory compliance, and will efficiently contribute to help you control most industrial hazards, for the sake of your staff and organization.