All our services
Back > Advice and support
Expert in corrosion and corrosion protection
Area of expertise
Metallic materials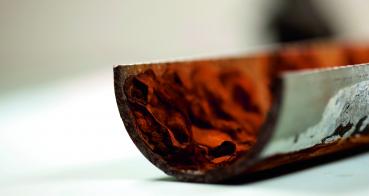 Analyse and understand the corrosion of a part, product or metallic equipment
YOUR EXPECTATIONS
You would like to:
understand a corrosion phenomenon on a metallic material
perform representative tests or examinations of a specific type of corrosion
solve the problems of corrosion on your assemblies (galvanic coupling)
assess the strength, durability or performance of a material or that of its corrosion protection system
implement corrosion protection (cathodic protection, paint, surface treatment, selection of adequate material, etc.)
OUR SOLUTIONS
Test equipment and laboratory tests to simulate or analyse and understand a type of corrosion (climatic chambers, salt spray, etc.)
Experts who come to your site to provide support in a structured approach (diagnosis, failure analysis, etc.)
Suggestions and recommendations suited to your needs
Support from the design stage of your equipment or structures:

Selection of materials,
Selection of the protection (surface treatment, coating, etc.)
Modelling of the cathodic protection (PROCOR software)
YOUR BENEFITS
Recognised expertise in the area of corrosion and corrosion protection
Tailored and responsive service
Access to the most advanced technologies, skills and equipment
Access to the multidisciplinary skills of our metallurgical teams to optimise your products
An independent laboratory and a major player in the energy (Oil & Gas, renewable energies, renewable marine energies, etc.), naval, infrastructure, aerospace, rail, automobile and medical sectors).

En confiant votre expertise au Cetim, centre technique indépendant et neutre, vous êtes assuré d'une approche objective, compétente et factuelle.
Nos équipes dédiées pratiquent l'analyse des défaillance au quotidien et s'engagent sur des diagnostics.
Savoir pourquoi est notre coeur de métier.
Savoir quoi faire est notre atout, pour que vous tiriez de cet événement une nouvelle force de compétitivité !
Le Cetim est leader français en analyse de défaillances mécaniques, enrichi de sont expérience de 30 ans, de 1000 nouveaux cas traités par an dans tous les domaines de la mécanique.
Failure analysis
Mechanical breakdown, non-compliant product ? Our dedicated teams do failure analyses on a daily basis and give you assents and recommendations to help you understand the causes and origins of the problem.