All our services
Back > Advice and support
Implementation of a collaborative production platform
Area of expertise
Mechanical products and processes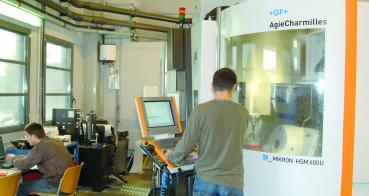 Get the most of advanced production techniques at least cost!
YOUR EXPECTATIONS
You want to:
• check the technological feasibility of a new production set and test its economical viability
• use efficient production means adapted to the current and future needs of your market while reducing technological and financial risks
• pool your efforts and those of your partners and share experience for a more effective growth
OUR SOLUTIONS
A general project for the implementation of a collaborative production platform led par Cetim experts:
• a practical and operational approach which integrates the platform lifecycle as a whole (creation of an interest community, implementation, operation and dismantling of the platform)
• an organizational and technological support for the mounting and running of the platform. This support is backed by the experience feedback listed in a methodological guide
• a multi-disciplinary project which integrates various aspects like technology, economy, contracts, organization, data processin, and environment, safety and governance
YOUR BENEFITS
Our specialized experts intervene at every step of the project to:
• ensure an effective project management while keeping your particular skills
• create an interest community and allow you to tie partnerships
• quickly create a technological knowledge base at least cost
• benefit from a maximum return on investment:
With just one-quarter investment from a machining center, you draw 100% of profitability using it 25% of the time, but answering totally your needs!
Machining (5 axes, robot, vibratory drilling…), assembly (bonding, mecano welding, riveting, bolting, clinching…), stamping, adiabatic punching, digital process simulation, forging, large deformation, forming, powder metallurgy (compression and sintering, CGV, MIM, direct manufacturing, SPS...)

Supervision of projects change
Detect and implement at the right moment the technological move, which will allow your company to keep its market positions or take an advantage on its competitors, is one major stake of a leader.
Cetim is your partner in leading these strategical projetcs.