All our services
Back > Advice and support
Innovative substitutions of substances-processes-materials
Area of expertise
Quality - safety - environment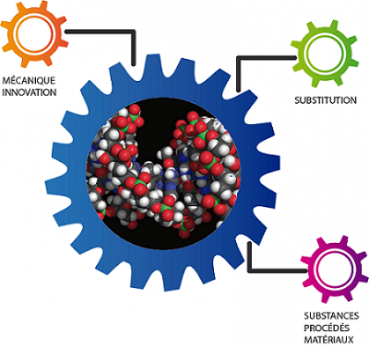 Substitution, a driver of innovation
YOUR EXPECTATIONS
You would like to:
Take into consideration the risk of obsolescence of regulated and hazardous substances (CMR, endocrine disruptors, etc.) found in materials (metallic and polymer), processes and articles
Adopt optimum substitution solutions
Secure your supplies and your production
OUR SOLUTIONS
Cetim offers you a comprehensive risk management plan:
Establishment of a comprehensive Substitution Plan (materials, processes):
Assessment of the vulnerability and obsolescence related with REACH, RoHS, CMR: materials, products, processes. E.g.: Chromium VI, Nickel, Cobalt, Phthalates
Study of substitutions and recommendations for innovative substitutions (substances, processes and/or metallic and polymer materials)
Feasibility and durability of the recommended substitution solutions
Assistance in selecting the optimum substitution solution: based on ROI (Return On Investment)
Support in operational implementation (materials, processes, product):
Tests and validation of compliance with Customer Specifications (corrosion, mechanical strength, functional tests, etc.
Reorganisation of the workshop and integration of the substitution solutions in the production system (performance, safety, ergonomics, environment)
Follow-up of implementation of the substitution solution(s)
Training, awareness raising
YOUR BENEFITS
Why should you choose Cetim?
Support in obtaining funding for your projects
Neutrality
Our mechanical engineering expertise: surface treatment, metallic and polymer materials, associated with our thorough knowledge of the regulation
Our laboratories and R&D platforms (tests, characterisation and qualification)

Risk management and regulatory conformity
Master and foresee risks means avoiding accidents, production stops and losses, which could put your company's existence in danger.
Cetim has developed a long experience and comprehensive knowledge in risk prevention and statutory compliance, and will efficiently contribute to help you control most industrial hazards, for the sake of your staff and organization.