Equipment
Headlines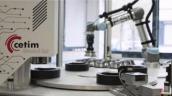 The Cotra demonstrator unveiled in a video!
The advanced testing demonstrator developed by Cetim Grand-Est, with its robot and contactless technology, is opening up new avenues for the introduction of non-destructive testing on production lines.
It is now possible to test all parts output from a thermochemical treatment line in real time and without destroying them! A new video of the Cotra demonstrator unveiled by Cetim Grand-Est at the BE 4.0 trade fair is proof of this. To achieve this feat, it uses two innovative technologies which can be industrially manufactured on a production line. The first is the 3MA, a combination of magnetic tests used to inspect the thermochemical treatment depth and hardness of a part. The second technology, Holo3, uses Laser-induced Breakdown Spectroscopy (LIBS) to inspect the material's chemical composition.
In addition to the technical performance, this demonstrator is also a means for Cetim Grand-Est to demonstrate its ability to support manufacturers during each stage (feasibility, prototype, series run and industrial production) of their development in this area. "The aim is to provide tailored assistance to our manufactures" explained Clément Callens, Industry of the future manager at Cetim Grand-Est.
Watch the video "Cotra: a demonstrator of 100% real-time contactless quality control" on the Cetim France YouTube channel.
Presentation
Within a very competitive international context and in a restructuring period, Cetim has developped for this sector special solutions for research, innovation and support. Mechatronics, new materials, innovative manufacturing processes... all of them are assets to develop the high-value products required by the market.