Aerospace
Headlines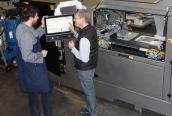 Additive manufacturing: one shared platform, two sites
To allow more companies to test this technology without investing in dedicated equipment, the MI3D shared device pilot unit now has two machines in Auvergne-Rhône-Alpes, and the services associated with the platform are now pooled.
This is good news for all industrial companies based in Auvergne Rhône-Alpes wanting to explore the metallic additive manufacturing techniques. To provide them with easier access to this technology, Cetim is improving and pooling its range of shared device pilot units in this field. From now on, industrial companies can enjoy the same services and know-how with two shared machines available in Cluses(Haute-Savoie, France) and in Saint-Étienne (Loire, France), as part of the MI3D shared device pilot unit.
This platform is intended to give industrial companies the opportunity to test, without risk, a high-performance and cost-effective technology that is an alternative to machining, to manufacture complex parts and open new horizons. With the latest generation of machines which use the Metal Binder Jetting (MBJ)technology and with the help of a dedicated team, the companies participating in the platform will be able to discover the technology and implement it on concrete cases and under industrial conditions while taking advantage of the experts on hand to provide them with support from the design to the finishing of the parts.
This way, industrial companies can evaluate the technology and decide, should they wish, to integrate it into the know-how offered to their contractors. They can also use the results of collective R&D projects and make propositions to direct the research programme.
Presentation
Prime manufacturers, equipment manufacturers and subcontractors must address new technological developments resulting from new materials arising. Expectations regarding innovation, design, tests, production reporting, failure analysis find in Cetim a combination of skills and talents which is unique on the market.