Headlines
Back > Headlines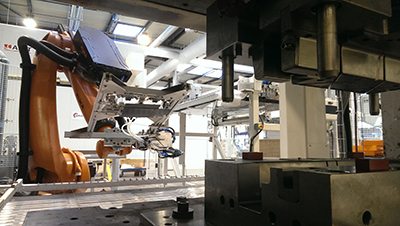 Industry of the future - a first in France, presented to Emmanuel Macron: the Quilted Stratum Process
At the launch of the second phase of the New Industrial France plan, Emmanuel Macron, the French Minister of Economy, Industry and Digital Technology got the opportunity to discover the Quilted Stratum Process (QSP). This innovation was developed by three French SMEs (PEI Pinette, Compose and Loiretech) and Cetim. Its aim is to produce ready-to-use composite mechanical parts in 2 minutes.
With the "Quilted Stratum Process", France now boasts the first automated pilot line tailored to the needs of the automobile and aeronautical sectors with a view to broader applications to the entire mechanical engineering sector: agricultural machinery, handling and lifting equipment, heavy goods vehicles, etc. According to Christophe Champenois, composite engineering manager at Cetim, "in order to meet emissions standards that will be applicable from 2020, French car manufacturers must reduce the weight of vehicles, hence the interest of manufacturing structural composite parts. While accepting a cost overrun of 3 Euros per kilogram, these industry players require manufacturing times of approximately 2 minutes per part. These advances will be beneficial to all industrial sectors."
This development is in line with Cetim's ambition to innovate for the industry, especially in the field of Manufacturing. It complements the support actions provided to SMEs such as assistance in acquiring robots or integrating additive manufacturing (3D printing). These many achievements demonstrate Cetim's involvement as a member of the "Industry of the Future" Alliance, especially with respect to the technological goals and their rollout in the companies, alongside the FIM (French federation of mechanical engineering industries), Symop (French association of machines and production technologies) and CEA.
The QSP, which has received financing of € 5 M from Cetim and the Pays de la Loire region, is based on a patented technology that stems from scientific work conducted with the Comp'Innov laboratory and Onera, and its industrial production is carried out in partnership with three French mechanical engineering companies that specialise in production processes, PEI Pinette, Compose and Loiretech. The QSP is located at the Technocampus Composites site in Nantes, and embodies the first operational module of the French project for a high‑speed pilot composite production line, coordinated with IRT Jules Verne. This process will receive an "Innovation Award" during the JEC America fair, on 2 June 2015 in Houston, USA.
Consult the presentation of the QSP on: Manufacturing.fr
(05/18/2015)