Headlines
Back > Headlines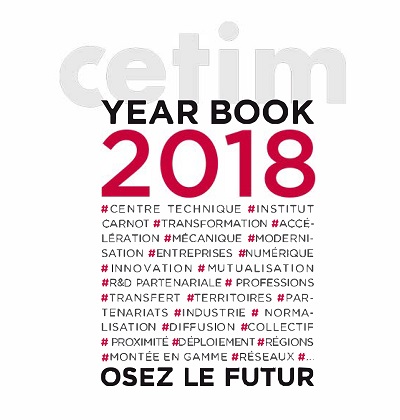 2018, a year of construction for a unique model
2018 was a year full of events and Cetim's new annual reportis now available to provide you with a full summary.
The 2018 report, in line with previous versions, present the basics and describes the actions performed every day by Cetim, an Industrial Technical Centre and one of the very first Carnot institutes: basic missions such as R&D on behalf of companies, support to mechanical engineers, or preferential partnerships with the French regions to support industrial companies.
Unprecedented effort
This year's edition also illustrates an unprecedented year of construction in Cetim's history: integrations, acquisitions, implementation of a visibility strategy, etc. Cetim has consolidated its model - unique in France - to provide small and medium industries with close support in their drive to move upmarket. While the French Prime Minister has expressed the government's desire to step up its efforts to transform the French industrial sector, Cetim is mobilising its forces and is initiating a large-scale regrouping and regional proximity operation. The objective is raise the awareness of 30,000 small and medium industrial companies regarding digital technologies by 2022…
Many operations were initiated in 2018, among which the reorganisation of the associated centres, the creation of new subsidiaries and the installation of new sites. As a result, 2018 was an intense year which saw construction and structuring of a whole system to support the transformation of the industrial sector. With this new stage, Cetim has become a driving force across France, working hand in hand with the French regions to encourage industrial development
Nevertheless, this period also saw the announcement, in the middle of the year, of a significant reduction in the ceiling of the tax allocated to Industrial Technical Centres for 2019 (-6.5%).
Cetim is a unique model, dedicated to supporting companies in all possible ways (R&D, standardisation, collective actions, etc.).
The French industrial sector needs such support. Industrial policies require industrial policy tools, and Cetim is one of these tools!
(05/09/2019)