Headlines
Back > Headlines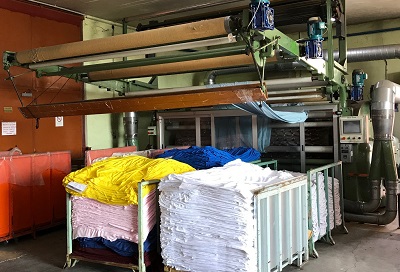 Waste treatment: Matel Couleurs Textiles uses an in-depth study to acombine compliance with thresholds and cost savings
Matel Couleurs Textiles, an SME located in Roanne, France, reduced its effluent treatment investments by two thirds through an in-depth study of its dyeing processes carried out in conjunction with Cetim. As a result, it can continue its productive investments and expansion.
A legal obligation
Since its creation in 2010, Matel Couleurs Textiles has always discharged its 400 m 3/day of effluents into the collective wastewater system. However, in 2016, the inspection body for classified facilities (Ministry of Ecological and Solidarity-based transition) required the company to comply with the legal limit value of hydrocarbon discharges. However, the self-monitoring carried out on a regular basis by the SME revealed recurrent exceedances of the value. It therefore called on the services of a consultant in order to determine the solution to be implemented. After several months of studies, the service provider recommended that the company set up a one-million-Euro waste treatment facility. However, such an investment was economically unfeasible for the company, as it represents almost half of its annual turnover (EUR 2.5 million)!
Matel Couleurs Textiles was convinced that another solution was possible and accordingly turned to Cetim for assistance. Together, they undertook an extensive study of the dyeing process: degreasing, multiple intermediate rinsing operations, dyeing, scraping (mechanical operation), etc. Analyses of all the baths were entrusted to an external laboratory. The aim was to map the pollutant flows and determine processing systems suited to the characteristics of the effluents. The study revealed that the hydrocarbons present in the process stem from the fabrics delivered to Matel Couleurs Textiles and probably come from the lubrication of the weaving machines. Above all, these hydrocarbons are released during a single operation: degreasing. The volume of discharges to be processed is therefore limited to 40 m 3/day maximum and an electrocoagulation system can be implemented to treat these effluents for a cost of only 350 000 Euros.
Other prospective investments
While complying with the limit value of hydrocarbon releases dictated by regulations, Matel Couleurs Textiles reduced the initially-planned investment by two thirds. "Since then, we are able to face the future more serenely. For that matter, we made the purchase of a machine that had been on hold since 2016, and we plan to make other investments to increase our production by 30% over the next three years in order to win new markets", stated Renaud Vancoillie, CEO of Matel Couleurs Textiles.
Consult our industrial effluent management services on our website.
(06/26/2018)