Headlines
Back > Headlines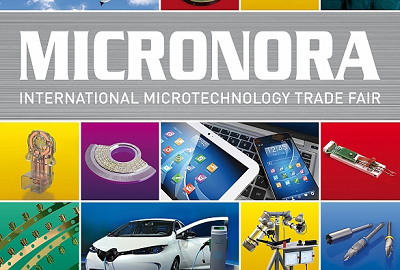 Three highlights at Micronora!
Cetim and its partners will be attending the microtechnology and nanotechnology trade fair, which will be held from 25 to 28 September 2018 and will focus on additive manufacturing, robotisation and industry of the future. They will be present at stand 6/613 hall B1.
The Micronora trade fair that caters to high-tech sectors forever striving for smaller, more accurate and more intelligent products, will be held from 25 to 28 September 2018 in Besançon (Doubs, France). During this new edition, Cetim, its associated centres Cetim Grand Est, Cetim Centre-Val-de-Loire and Cetim-Ctdec, alongside the Industry of the Future Alliance will be organising three important events.
Additive manufacturing, a key theme
At stand 6/613 (hall B1), Cetim will first demonstrate its solutions for successfully integrating metal additive manufacturing into companies. This is an individualised tailored package based on the company's level of maturity that ranges from the technical-economic feasibility study to the integration study in addition to the proof of concept. Particular emphasis is being given to Metal Binder Jetting which serves to produce small series of small, complex and high-precision parts.
Cetim will also be present at the "Zoom Industrie 4.0" space of the fair to showcase "Robdec", a robotised cell for the loading-unloading of presses. This concept, which stems from a joint action in Bourgogne-Franche-Comté, France, is a mobile, easily programmable and flexible robot that can freely move around a workshop, adapts to series changes and guarantees the safety of operators, all at an affordable cost. This robotised cell will be offered to industrial manufacturers so that they can be trained in its use and perform feasibility tests, among other things.
As the third highpoint of the fair, which will also take place at the Zoom space, on 26 September 2018 from 11:30 a.m. to 12:30 p.m., the Industry of the Future Alliance (AIF) will be organising a conference on the theme "Can SMEs afford the industry of the future?" ("Les PME peuvent-elles s'offrir l'industrie du future ?").The panel will include: Olivier Bourgeois, AIF ambassador in Bourgogne-Franche-Comté, Philippe Darmayan, President of UIMM, and Jean-Claude Lagrange, Vice-President for economy at the Regional Council of Bourgogne-Franche-Comté, as well as two industrial manufacturers, Micro Erosion and Guignard Robotisation, which have undertaken a transformation approach.
For its 25 th edition, and over a four-day period, Micronora will bring together 950 industrial exhibitors in particular from the R&D, subcontracting and production equipment sectors, in an exhibition surface area of 25,000 m². The event is expected to draw in 15,000 attendees.
For more information about the presence of Cetim and its associated centres at the fair, visit the "Agenda" section of our website.
(09/17/2018)