Headlines
Back > Headlines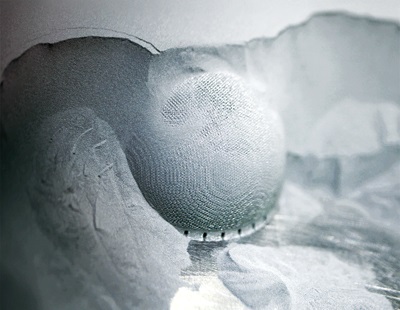 New developments regarding materials used in additive manufacturing
At the "Materiaux 2018"Conference held in Strasbourg, France from 19 to 23 November 2018, four presentations were made by Cetim showcasing the Centre's latest breakthroughs in the study of materials used in additive manufacturing.
While much progress has been made in additive manufacturing technologies, substantial work has also been devoted to the materials used and their in-service behaviour, particularly the corrosion resistance of the parts. At the Materials Conference held in Strasbourg, France from 19 to 23 November 2018, Cetim presented four papers (of the 17 dedicated to additive manufacturing) which addressed this critical issue.
Four studies to assess corrosion resistance
Cetim firstly presented the results of work exploring the corrosion behaviour of 17-4 PH, a martensitic stainless steel, when produced with laser beam melting (LBM) and of the same steel when produced using conventional metallurgy methods. Both steels were optimised by a H900 heat treatment (for an ageing at 480°C for one hour). The study revealed that the material produced with additive manufacturing results in decreased corrosion resistance even when a heat treatment is applied.
Furthermore, the Centre conducted another study on the same 17-4 PH steel produced with the LBM technology, which centred on assessing the corrosion resistance by examining four experimental heat treatments which were variations of the H900. Although these treatments improved the material's corrosion resistance, they did not entirely eliminate the harmful effects of the laser beam melting on the corrosion strength.
316L stainless steel, frequently used in the transport and energy sectors, must also have good corrosion resistance. This material was studied at various surface conditions obtained with electrochemical techniques, in order to determine its resistance in a saline solution at 25°C, when produced using the Selective Laser Melting (SLM) process. The results of this study show an increase in the corrosion resistance if the rough SLM-processed surface of the material is polished.
Lastly, Cetim focused on the development of a Chromium-Cobalt alloy produced with laser beam melting (LBM) for orthopaedic implants as a first step. Heat treatments geared towards optimising the microstructure make it possible to meet the functional needs of this sector and provide enhanced performance compared with castings. Secondly, the alloy was assessed for marine applications. The study revealed that the as-manufactured material exhibits highly anisotropic properties and a low elongation at break. The Centre therefore examined ways to resolve these issues using heat treatments. The tests performed highlight the absence of metal/metal corrosion at 80°C which, compared with nickel-based alloys and super-austenitic aluminium alloys, is attractive for applications in contact with seawater.
The Materials Conference has been held every four years since 2002 under by the aegis of the Fédération Française des Matériaux(French Materials Federation). This 5 thedition brought together some 1,600 people in 200 sessions featuring over 1,200 presentations.
(12/13/2018)