Headlines
Back > Headlines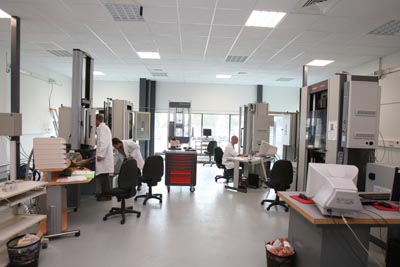 Etim : The expert in testing for composite materials
The Cetim and Europe Technologies, a company with materials engineering expertise, announced the creation of their joint subsidiary, Etim, at the Paris Air Show Le Bourget 2011.
Etim SAS is above all a team of recognised experts dedicated to development and production testing for composite materials, recognised by the leading order placers and benefitting from all the authorisations and certifications required by the market.
Etim combines the responsibility and flexibility of an SME that develops and industrialises innovative technologies, the basis of its international expansion (subsidiary in Canada and the USA and partnership in Japan), with the expertise and engineering skills of a technological institute that supports our country's entire mechanical industry. The business benefits from the experience, authorisations and certifications of the two players (Nadcap accreditations for composite material testing and Cofrac testing programme 93), as well as their resources, and in particular the dedicated infrastructures of the Technocampus EMC 2, Carquefou and Casablanca (Morocco) sites, with over 5 million Euros' worth of hi-tech equipment: presses,
testing machines, spectrometers and more.
Led by Chairman Patrick Cheppe, Etim targets the aeronautical market first and foremost, in particular structural parts manufacturers and engine manufacturers, major order placers and subcontractors. It assists its customers in the national and international arenas. The company specialises in manufacturing and production characterisation testing, from basic parts to composites (mechanical and physic-chemical characteristics, micrographic analyses, etc.). It meets a growing demand for composite material production testing involving large-scale, flexible resources and cutting-edge technologies: specific machining and die trimming or preparation resources, contactless measurement (video-extensometry etc.), compression and
rupture testing, and ageing monitoring.
Etim stands out from the crowd by providing a complete service with dedicated resources, from preparation (preparation, polymerisation, cutting, machining, non-destructive testing and other tests) to producing test reports, thus sparing its customers the burden of logistical management and offering them the guarantee of a single point of contact with an international reputation. Its aim is perfect control of costs, quality and delivery times, with a customer commitment to test cycles in an integrated lean production programme. This integration of short-term demands and competitive rates completes the Cetim solution in the area of upstream test development and finalisation in connection with research projects that create new characterisation issues.
The new entity is positioned as the go-to contact for major players in aeronautical construction, with previous customers including AIRBUS, SAFRAN, DUQUEINE and DAHER. It strengthens the presence of the two partners on the aeronautical market.
We are pleased to announce the deployment of a real organisational and collaborative
innovation with this association between a SME and an industrial technical centre.
Find in the joined press kit more informations about the two partners, their joint solution of testing for composites, the Cetim accreditations and certifications, and the Cetim activities in aeronautics.
Contact :
(06/21/2011)