Headlines
Back > Headlines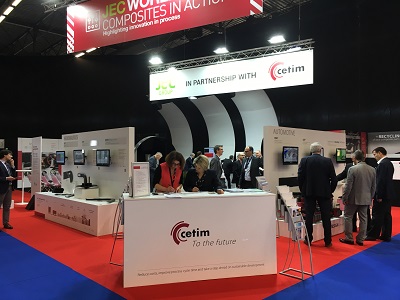 Composites in action in Paris!
At JEC World 2019, held in Paris, France from 12 to 14 March 2019, Cetim and the Carnot institutes alliance for the composites sector will showcase their know-how, services and solutions in this field.
JEC World 2019 will once again be a veritable Mecca for composite materials, with 1,300 exhibitors, over 150 conferences, 1,800 business meetings and 43,000 attendees expected from 115 countries. This new edition, to be held from 12 to 14 March in Paris-Nord Villepinte (France), will bring together industrial manufacturers from around the world to review the latest technologies and developments.
Solutions for all sectors
The "Composites in Action" space (stand D85 – hall 6) will consolidate all of the Cetim Carnot Institute's know-how and solutions intended for the aerospace, motor vehicle, energy and Oil & Gas sectors. These solutions span the entire value chain to meet the needs of French and international manufacturers. They include the reverse engineering of parts via 3D scanning, the design of parts by taking into account the manufacturing process used with QSD, and part production with QSP (Quilted Stratum Process, winner of a JEC Award), a process for a high-speed production line for thermoplastic composite parts, Spide TP filament winding as well as tests and advanced inspections.
Demonstrations and Carnot institutes
The event will feature part exhibitions, live demonstrations, automated infrared thermography testing, 3D scanning and tests and, of course, meetings with Cetim experts for manufacturers seeking assistance with their projects.
The "Composites in Action" space will also serve as a forum for the Carnot institutes alliance for the composites sector and Onera to present their programme aimed at supporting business innovation, with 550 experts and 50 R&D platforms for small, medium and intermediate enterprises. The 38 Carnot institutes represent 18% of the public research workforce and 50% of the company-funded R&D entrusted to public research, with 9,000 research contracts per year including 3,600 small, medium and intermediate enterprises.
Find more information about JEC World 2019 on our website.
(01/17/2019)