Metal Processing
Headlines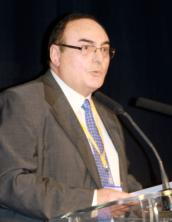 Rendez-Vous Carnot 2011: A great success
During the 4th "Rendez-vous Carnot", the number of meetings grew by more than 40% compared to 2010. This success confirms the formula of the business convention, which brings together companies of all sizes and experts from research laboratories. The aim? To find pertinent answers to innovation needs!
A very busy schedule, with many meetings. There were more than 7,000 business meetings during the fourth Rendez-vous Carnot held on 12 and 13 October 2011 in the Double Mixte showground in Lyon (France) and initiated by the Carnot Institutes Association with the support of the Rhône-Alpes Region and the Grand Lyon institution.
"During the year 2011 we saw a growth of more than 40% in requests for organised meetings even before the beginning of this event," Joachim Rams, Chairman of the Carnot Institutes Association says.
Between each meeting, industrialists had all necessary material to satisfy their appetite for innovation. As a matter of fact, the Double Mixte showground received 800 exhibitors and 20 conferences and workshops, as well as 20 flash presentations on products and services stemming from R&D actions.
The fame acquired by this event is now well established. This is a reality which led the FIEEC (Fédération des Industries Électriques, Électroniques et de Communication, Federation of Electrical, Electronic and Communication Industries) to grant its Applied Research Prize at the end of the Rendez-Vous Carnot. The prize was awarded to three public research engineers whose work led to an innovation with significant impact for small and medium companies: Thierry Thomas (CEA LETI Carnot Institute), Pascal Sortais (Nuclear Physics and Particle Physics Institute) and Serge Le Reste (Ifremer Edrome Carnot Institute).
At the end of the event, Joachim Rams wanted to resituate partnership research in the vaster framework of up-and-coming investments.
"Up-and-coming investments are a fantastic opportunity to accelerate the development of partnership relations", Joachim Rams continues. "I am sure that the 2011-2016 period will make it possible to amplify links with all the partnership research stakeholders, working for a common objective: the international competitiveness of our country."
Contact: sqr@cetim.fr
Presentation
Deeply touched by crisis, this industry can rely on the various skills offered by Cetim to reinforce its competitiveness.
Innovation, product ranges redesign, process or organizational expertise... Cetim suggests you alternative solutions and takes part in supporting this essential-to-the-industrial-production market.