Aeronautics
Headlines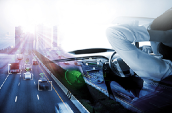 Automobiles take a drive to the future
The automobile transformation is underway, from today's traditional vehicles to the electric, autonomous, connected and shared vehicles of the future. In France, all ecosystem contributors have taken action to meet this dual challenge: preparing for the future, while continuing to invest in the production of vehicles to meet today's needs. This topic is the focal point of the Cetim newsletter No. 243 for October 2018.
The automotive segment is facing radical changes! This segment is switching to electric, autonomous, connected and shared options in order to meet the needs of the users of the future. All industrial operators in the sector are revising their development priorities on this basis, without forgetting the current market. More details are available in the Cetim newsletter No. 243 for October 2018 focusing on "cars in 2035".
Radical industrial changes
International vehicle production output climbed by 2.4% in 2017, to 97.4 million units. This figure is up by 25% versus 2000! While China now ranks as the number one car manufacturer and user worldwide, the European Union is still the second production zone at international level. What should we expect for 2035? Vehicle production is expected to reach approximately 120 million units annually. But above all, the automotive industry is preparing to manage serious changes. According to Guillaume Devauchelle, Valéo innovation director "In a world where the population is concentrated in very dense urban areas, the passenger car model, where one single individual is transported over journeys of varying lengths, and where vehicles stand unused 93% of the time, is no longer suitable, and the modifications required to the current public transport systems are too significant to be considered feasible. We need to bet on new mobility solutions using autonomous, electric and shared vehicles. ".
User needs are also changing. Each party has their own vision of the cars of the future as a personalised space where users can work, be entertained and relax. In a world where manufacturers are reconsidering the very types of their future models in-depth, and aim to produce vehicles able to meet the preferences of each and every customer locally, right where it will be used. The concept of standard production will disappear, although mass production will continue. At plant level, new technologies must be integrated for this purpose, such as additive manufacturing, and the transition from current processes to unit-based production. For example, when producing bumpers using plastic injection techniques, the Renault-Nissan-Mitsubishi group is planning to change mould for each new part!
Joining strengths for promising fields
French automotive operators are in the leading pack, particularly in terms of vehicle electrification, which stands neck and neck with progress in terms of connections and sharing. And while the top manufacturers and equipment specialists are launching ever-increasing numbers of initiatives to boost their lead, SMEs and small businesses also have a major role to play in the emergence of the solutions of the future. Just like Navya, whose autonomous shuttles are already undergoing trials in town centres in many large cities around the world. Next stage for this start-up: deploying totally autonomous taxis able to travel alongside traditional vehicles in a totally safe manner.
The full contents of the "Cars: expected solutions for 2035?" documentary is available for download via the following link.
Presentation
Prime manufacturers, equipment manufacturers and subcontractors must address new technological developments resulting from new materials arising. Expectations regarding innovation, design, tests, production reporting, failure analysis find in Cetim a combination of skills and talents which is unique on the market.