Headlines
Back > Headlines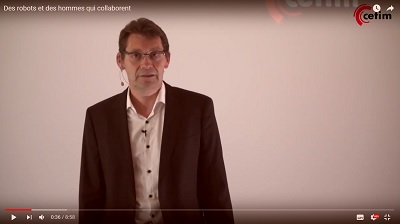 Video: robots and humans working together
In a filmed conference available on the Cetim France YouTube channel, Sylvain Acoulon, Cetim's collaborative robotics expert, presented real examples of these robots and the steps to be taken to enable their proper integration within production workshops.
"I am going to tell you a story about humans and robots". This was how Sylvain Acoulon, safety consultant and collaborative robotics expert at Cetim started the conference– a video of this conference is available on the Cetim website, in the "Video" section and on the Cetim France YouTube channel.
This story tells the tale of Einea, a company that consulted a Cetim expert in order to understand and implement collaborative robotics technologies in its workshops. Sylvain Acoulon spoke about the questions raised by the company regarding the definitions of cobotics and collaborative robotics, the relevant families of machines, their uses, safety management and the necessary risk analysis in the design of these types of applications… He then spoke about the creation of an innovative assembly station in the company that was seen as exemplary by the Minister of Labour in relation to the integration of collaborative robotics.
The video "robots and humans working together" is available on the Cetim France YouTube channel and on the Cetim website, in the "Video" section.
In addition to this video, the following work is also available: "Les robots collaboratifs – guide d'intégration de la santé et de la sécurité" (Collaborative robots – integration guide for health and safety), as well as the brochure "Enjeux relatifs aux applications robotiques collaboratives" (Issues surrounding collaborative robotics applications) published by the French association of the mechanical industries (FIM), Cetim, the French association for manufacturing technologies (Symop) and the standardisation office for mechanical engineering (UNM), on the Cetim website, in the "Mécathèque" section.
(08/29/2017)