Headlines
Back > Headlines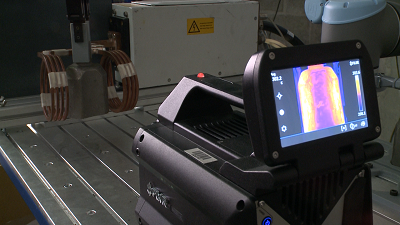 Video: NTN automates NDT on its forging lines
A world first! NTN transmissions Europe, a forging specialist, has developed a unique process that automates active infrared thermography on its production lines. Its video testimonial is available on the Cetim France Youtube channel.
NTN Transmissions Europe has met the challenge of inspecting forgings without human interpretation and at a rate of 5 seconds per forging. This unprecedented feat was achieved at its Crézancy plant located in Aisne (France), where it manufactures 60% of the group's forgings for the European market: tulips and joint housings for motor vehicle transmissions. "These forgings must be free of laps, defects caused by metal flow during the hot forging process. Currently, the inspection is carried out manually by an operator who examines each forging individually. This is a tedious task which may lead to false diagnoses. Consequently, this visual inspection must be replaced with a reliable and automatic device", explains Bastien Benet, Site Quality Manager, in a video on the Cetim France Youtube channel.
This project was initiated in 2013 with a study by Cetim's professional Forging Commission, interested in replacing the manual inspection of parts with an automated NDT device. They were faced with two major challenges: achieving inspection speeds that were identical to the forging speeds and using an environmentally friendly system. Cetim firstly developed a demonstrator for the active infrared thermography testing of wheel hubs. The next step involved assessing and automating the demonstrator on the NTN site. The demonstrator encompasses the synchronised triggering of the induction heating of the forging, the acquisition of the thermal sequence by the camera, the processing of the signal and the automatic detection of the defects via an analysis of the images. The forgings are handled by a robot.
Watch the video "NDT is now a part of the NTN transmissions Europe's forging lines" on the Cetim France Youtube channel.
(02/20/2018)