Headlines
Back > Headlines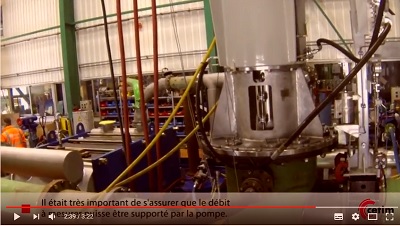 Video: Eureka Pumps tests its giant pumps in real conditions
Eureka Pumps, the pump manufacturer for the oil services sector, relied on Cetim to perform unprecedented tests on a large-size oil extraction pump. The goal was to reproduce the real operating conditions in order to validate the dimensioning and guarantee its commissioning without problems.
The bold challenge met by the Norwegian pump manufacturer and Cetim involved carrying out tests on a two-ton pump using a liquid with a viscosity 1,000 times that of water and reproducing the cold start of the pump in extreme temperature conditions! Watch the video on the Cetim France YouTube channel.
This performance was underpinned by a requirement set by Eureka Pumps' end customer to validate a future drilling rig off the coast of Canada. However, the achievement faced one major difficulty: "Due to the weather conditions in this region, temperatures may fall to very low levels in the winter and the viscosity of oil increases proportionally. Therefore, it was very important that the pump be able to start at such viscosities, which may exceed 2,000 centipoises", explained Cato Knutsen, Senior Project Engineer at Eureka Pumps. The only viable solution was to carry out tests reproducing the real operating conditions of the pump. This task was assigned to Cetim's experts.
Watch the video "Eureka Pumps: validate the start of a pump in severe weather conditions" on the Cetim France YouTube channel.
Find other information on this genuine industrial adventure in the reference sheet "Eureka Pumps - Tests of giant pumps in real conditions", on our website, in the "References" section.
(08/25/2017)